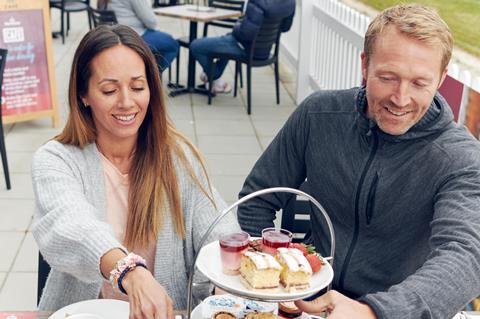 Morrisons has introduced al fresco dining at more than 100 of its cafés as shoppers welcomed the biggest relaxation of lockdown rules since Christmas.
The supermarket has opened outdoor seating areas at 107 of its stores in England from today.
It had kept cafés open for takeaways only due to Covid-19 rules, but said it hoped the move would allow shoppers to get back to some normality, despite the week beginning with freezing cold weather.
Shoppers brave enough to do so can sample meals such as a Big Breakfast for £5.50, fish and chips for £5.50 and a £10 afternoon tea for two.
Morrisons has also introduced an 'Order & Pay' app, giving customers the choice of ordering and paying from their tables via their mobile phones or tablets, which it said would reduce queueing in the cafés and help maintain social distancing.
Tills will still be open and available for customers that would prefer to order and pay normally.
"We're really looking forward to welcoming our customers back and have invested in our cafés to ensure everyone feels safe and has the best experience possible," said Ali Lyons, head of cafés at Morrisons.
"Our new 'Order & Pay' app will make it easier than ever to order from your table and also means customers looking to pick up a takeaway can book a time that suits them."