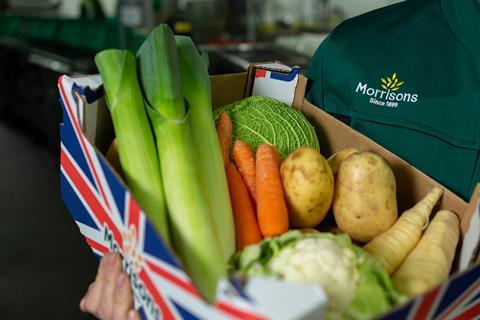 Morrisons is extending its partnership with food redistribution charity The Bread and Butter Thing (TBBT), to provide food for thousands of families in the UK whilst simultaneously reducing food waste.
Morrisons revealed plans to redistribute surplus food to 30,000 families in need through TBBT in 2021, building on a partnership first formed in 2016 which has so far provided two million meals to its members.
The food – amounting to another 800 tonnes or two million meals a year – will come from a range of Morrisons food-making sites, distribution centres and UK suppliers and will include fruit and vegetables, meat and fish, prepared food and bread.
TBBT is doubling its reach from its Greater Manchester origins. A second TBBT warehouse opened in County Durham in November 2020, new vans will take the fleet to 10, and over 50 hubs are expected to be operational across the north of England by mid-2021. Morrisons' support will enable the charity to expand nationally to 100 locations by the start of 2022.
"Reducing food waste is important to our customers, colleagues and shareholders," said Steven Butts, head of corporate responsibility at Morrisons.
"We've made very strong progress in reducing waste in our supermarkets over many years. But there is still more to do behind the scenes and this extension of our partnership with TBBT will mean they can do even more for families around the UK while at the same time helping us further reduce wasted food."
"We've all faced enormous challenges this year and we could not have done it without Morrisons' continued support and the heroic efforts of its team to keep its surplus food coming to us," added The Bread and Butter Thing CEO Mark Game.