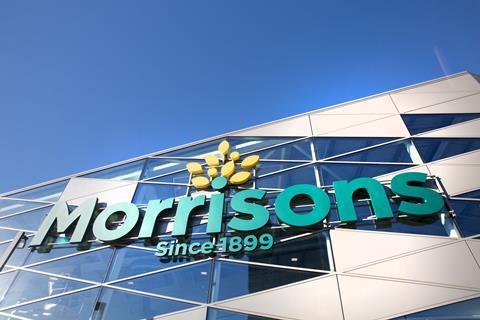 Shares in Morrisons have skyrocketed more than 30% this morning as markets in London opened after the supermarket announced over the weekend it had rejected an unsolicited £5.5bn bid from Clayton Dubilier & Rice (CD&R).
The US private equity giant, which counts former Tesco boss Terry Leahy as an operating partner, now has 28 days under City takeover rules to table a new offer or walk away.
In a short statement to the London Stock Exchange this morning, the firm confirmed it was "considering a possible cash offer" for Morrisons.
CD&R's initial approach – which happened last week, but came to light at the weekend following a story by Sky News – priced Morrisons shares at 230p each, a 29% premium to 178p closing price on Friday.
Morrisons confirmed in a statement over the weekend it had received "an unsolicited highly conditional non-binding proposal from CD&R" on 14 June.
"The board of Morrisons evaluated the conditional proposal together with its financial adviser, Rothschild & Co, and unanimously concluded that the conditional proposal significantly undervalued Morrisons and its future prospects," the company added.
The offer was rejected on 17 June.
Despite a strong showing by Morrisons throughout the pandemic, shares in the supermarket chain have remained subdued and below pre-Covid levels.
However, Morrisons stock shot up 32.6% this morning to 236.3p, giving it a market cap of £5.7bn, compared with just £4.3bn last week. The surprise move by CD&R also sparked an improvement in investor sentiment across the sector, with Sainsbury's shares up 4.4% to 271.6p and Tesco up 2.8% to 228p.
Morrisons employs almost 120,000 staff and owns the freehold to the majority of its 497-strong store estate. It also the only supermarket with its own vertically integrated supply chain, with dozens of manufacturing sites, including meat, fish and fresh produce centres.
CEO David Potts has turned around the fortunes of the business since taking the helm in March 2015, including striking agreements with Amazon to improve the online operation and a wholesale deal with c-store operator McColl's.
Potts has worked with Sir Terry Leahy in the past during his time at Tesco, as have Morrisons chairman Andy Higginson and COO Trevor Strain.
CD&R appointed Leahy as a senior advisor in 2011 and chose him to chair B&M European Value Retail, which the firm bought in 2013, as it readied for a flotation. Leahy also sits on the board of forecourt giant Motor Fuel Group, which CD&R acquired for £500m in 2015. It subsequently merged MFG with rival MRH in a £1.2bn deal to create the UK's biggest petrol forecourt operator, with a combined 900 sites.
CD&R's approach for Morrisons comes after the Issa brothers and their PE partners TDR – who together own forecourt operator EG Group – received final clearance from the CMA last week for the £6.8bn takeover of Asda.