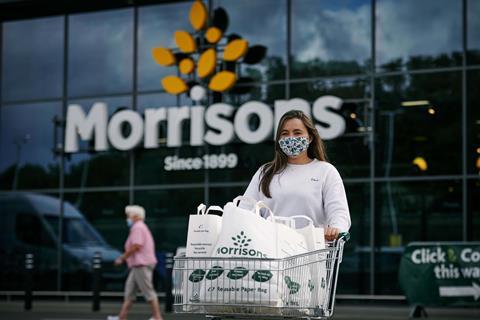 Morrisons is claiming a supermarket first as it announces plans to get rid of plastic carrier bags entirely from stores nationwide.
The plastic 'bags for life' are to be phased out in Scotland this month and in England and Wales over the course of the next year. It follows an eight-store trial of the move launched last year in Bristol, Cambridgeshire, Scotland, Wales and Yorkshire.
The move would save 3,200 tonnes of plastic a year, or 1.9 million bags a week, Morrisons said.
Customers will instead be able to buy Morrisons paper bags, which are reusable, recyclable, water resistant, tear resistant and can hold up to 16kg, according to the supermarket.
The carbon footprint of paper versus plastic bags, including production and distribution, has been a source of debate over which is better for the environment. However, Morrisons claims a life-cycle assessment by The University of Sheffield found its paper bags had a lower carbon footprint than its plastic equivalent.
The paper bags cost 30p, 20p less than the plastic bags for life they are replacing.
Along with other supermarkets, Morrisons scrapped 5p single-use plastic carrier bags in 2018, instead offering the more expensive plastic bags for life.
Other supermarkets have since trialled getting rid of plastic bags for life too. Waitrose said it would trial the move in August last year, shortly after the launch of Morrisons trial. Iceland has also trialled a paper alternative.
However, Morrisons is claiming a first in setting a timeline for removal of the plastic carrier bags across its estate.
"We have been listening hard to our customers over the past year and we know that they are passionate about doing their bit to keep plastics out of the environment," said Morrisons CEO David Potts.
"Removing all of the plastic bags from our supermarkets is a significant milestone in our sustainability programme."
Morrisons said customers ordering online at morrisons.com would also receive their delivery without plastic bags in cases where the shopping was packed at a store.