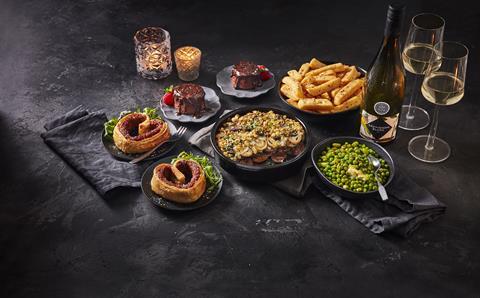 Morrisons' vegan Valentine's Day dine-in deal will be cheaper than Aldi's this year.
Aldi's plant-based deal comprising of starters, mains, a side, desserts and a bottle of prosecco for two comes in at £7.80 per person, while Morrisons offers the same courses, plus an extra side, for £15 for two people.
Asda is also offering the same three courses and two sides for £15, but with two bottles of Fentiman's Rose Lemonade as the non-alcoholic alternative to drink.
The Aldi menu includes a pack of six Thai Vegetable Red Roses to start, a choice of No Beef Bourguignon Pie or No Chicken Kievs for main, a Vegetable Medley on the side and a two-pack of Vegan Choc Pots for dessert with a bottle of Collezione Oro Vegan Prosecco.
Vegan options on the Morrisons menu, which are all from premium range The Best, include a starter of Chorizo Palmiers, a Mushroom & Leek Bake for main with Chunky Chips and Petit Pois, Garden Peas and Edamame Beans on the side, and a Chocolate Pudding Twin Pack to finish.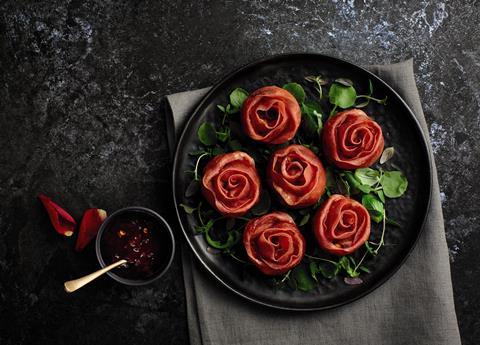 Morrisons shoppers have a choice of alcoholic vegan drinks as part of the deal, including The Best Prosecco DOC, The Best Pinot Grigio Rose and The Best Chilean Merlot which all retail at over £7 when purchased individually.
At Asda, the menu is selected from the Extra Special range, starting with Duckless Spring Rolls and Hoisin Dip, Melt my Heart Vegan Burgers for main with Pea Crush and Triple Cooked Chips on the side and finishing with Ganache Hearts with Raspberry Centres. To drink, shoppers can take home two bottles of Fentiman's Rose Lemonade which retail at £2.89 per bottle when purchased separately.
"This Valentine's Day will be undeniably different with restaurants across the UK closed," said Asda category planning manager Victoria Williams.
"We know our customers love products that add a little bit of luxury, especially for celebrations like Valentine's Day," said Morrisons planning activity marketing manager Samantha Lockhart.
"With the nation in lockdown this year, we wanted to help people recreate a night out at a restaurant at home by adding delicious new options to choose from and ensuring everyone can enjoy a special Valentine's meal."
However, Aldi's non-vegan Valentine's Day deal looks to be the cheapest announced by the grocers so far, shoppers can take home Cupid's Chicken Wings, Specially Selected Duck Breast Portions with Plum Sauce, a Vegetable Medley, Specially Selected White Chocolate and Raspberry Cheesecake Slices and a bottle of Prosecco Frizzante for £13.15.