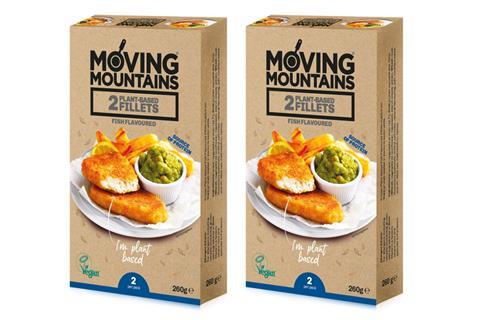 Plant-based pioneer Moving Mountains is ramping up its challenge to the frozen fish sector with the launch of a new plant-based 'fish' fillet.
The brand, which debuted in fish alternatives in December 2020, has unveiled a new fillet it claims is made with "incredible scientific processes to deliver the taste and texture of real fish".
The fillets use the same white soy used in its fingers, which Moving Mountains developed exclusively with a "large protein supplier" prior to the launch of the fingers.
The NPD is coated in panko breadcrumbs. It had a "succulent, flaky texture", said the brand, and could be used "as a direct swap" for traditional fish. It contains 10g of protein and 4.5g fibre per 100g.
The brand had "spent years perfecting the fish fillet so it looks and tastes just like the real thing", said Moving Mountains founder Simeon Van der Molen. The fillets can be fried from frozen in 10 minutes or oven cooked for 20.
"It has been created to revolutionise the nation's favourite meal: fish and chips," added Van der Molen. "Some 380 million portions of fish and chips are eaten every year, but this is impacting the oceans, where there is already a sustainability crisis."
The fillets have rolled into Ocado (rsp: £3.99/260g).
It's the latest in a swathe of NPD from the brand. Shortly after the launch of its plant-based fingers in December, it launched a range of frozen beef-style plant based tender strips it claimed had a "meatier taste" than competitors.
Its full range already includes burgers, sausages, mince, meatballs and hot dogs.