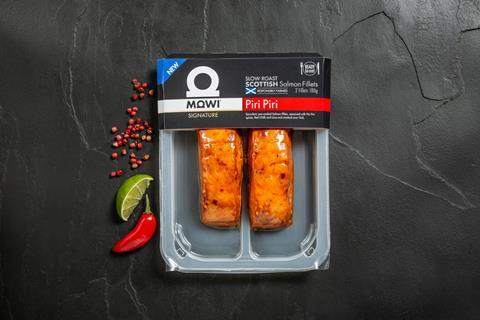 Mowi has enjoyed a strong start to life on UK shelves since the launch of its chilled range of Scottish-farmed salmon into Sainsbury's back in March, new data suggests.
According to Nectar loyalty card figures shared by the global seafood giant, its brand brought new shoppers to the retailer's fresh fish aisles and disrupted the existing offering there during its first 12 weeks on sale.
Between 24 March and 5 June, 53% of Mowi's sales were incremental with 6% of its consumers being completely new to Sainsbury's. Some 18% were new to the fish category in the supermarket, and an additional 29% boosted their frequency of purchase through buying into its range.
The remaining 47% of sales were mostly down to consumers switching to the brand, with a further 12% trading up to it.
Separate Kantar data from March to May also showed Mowi now represented 10% of Sainsbury's premium salmon value sales.
Mowi's head of sales James Cowan suggested the brand's performance had surpassed expectations.
"From the outset we challenged ourselves to reinvigorate the chilled salmon sector and bring a new customer to the chiller aisles. It's exciting to see us reach those goals three months from launch and we're looking forward to the future for Mowi in the UK market," he said.
Its future in Sainsbury's, at least, looks set to continue to be positive. A Kantar brand tracking survey of 581 Sainsbury's shoppers from May found 47% would consider buying into the brand.
The brand also hailed the performance of its £1.8m launch campaign.
Spanning TV, social media and print, the campaign aimed to show consumers the "guaranteed quality of Mowi products" and health benefits of salmon, it said in March.
The brand's own data showed its TV ads had reached 80% of UK households 5.3 times, with its social and PR campaigns generating a reach of 4.9 million since launching. This exposure had generated more than 70,000 clicks through to Sainsbury's website, it said.
It comes as sales of fresh fish have continued to perform strongly since spiking during the pandemic, with salmon earmarked as a likely area of continued growth.
In the 12 weeks to 16 May, Kantar data showed chilled fish had grown 19.8% year on year in value sales to £549.9m with volumes up 18.4%.
The strongest growth came from added value products, which added 37.4% in sales to £129.8m and saw a 30.1% jump in volumes.
"In the first national lockdown, shoppers were reluctant to buy fresh fish with a short shelf life, and when doing so focused more on family favourites like battered fish. This has now reversed, with future growth likely to be led by more indulgent areas, especially salmon," said Kantar client executive Jim McKenna.