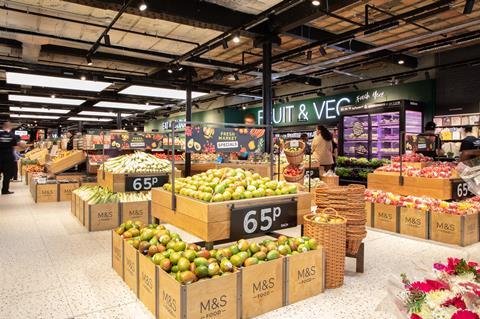 M&S has appointed four food directors in newly created posts in an effort to strengthen the business' senior commercial team.
Pav Anand, head of strategy, has been appointed director of strategy, transformation and online, gaining additional responsibility for the business' online food function. Head of food online Sam Hornsby will now report to Anand.
Katharine Haenelt, head of trade meat, fish, deli, dairy and bakery, has been appointed trading director fresh, gaining responsibility for all fresh categories. Lisa Raschia, head of trade produce, horti & frozen, and David Stokes, head of trade convenience & food on the move, will now be Haenelt's reports.
Lizzy Massey, head of trade ambient, has become trading director ambient, gaining accountability beers, wines and spirits. Massey joined M&S in January from Asda, where she was VP of non-edible grocery. Andrew Shaw, who joined M&S on 12 April as head of trade beers, wine & spirits, will now report to Massey.
David Phillpot, M&S Food's head of franchise, becomes director of franchise & hospitality, now overseeing head of hospitality Caroline Cromar.
The appointments would better enable the food business' commercial director George Wright to focus on supply chain transformation and supply base strategy, said M&S Food MD and group executive director of talent Stuart Machin in a memo.
Meanwhile Jim Clifton, formerly Morrisons' head of commercial transformation, has been poached as M&S Food's head of space, range and display. Clifton has previously been head of space, range and display for both Iceland and Tesco. At M&S, he replaces Ricky Horner, who has been appointed programme lead within the strategy & transformation team.
The appointments, announced with immediate effect this week, had "strengthened our commercial team", said Machin.
"We have exceptional talent across the whole of M&S, with a brilliant mixture of new hires and experienced colleagues who are all working hard with a renewed focus, energy and determination as we come out of lockdown," he said.