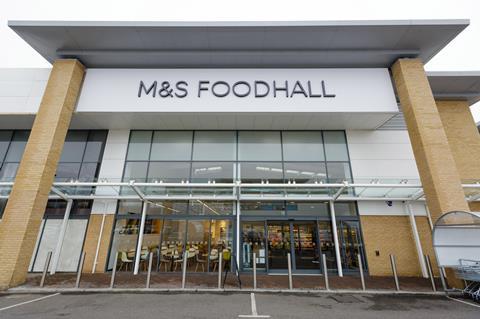 Dishoom has criticised Marks & Spencer after the retailer posted a recipe video tutorial on social media that featured a dish similar to one of the restaurant's famous signature breakfast dishes.
The Indian restaurant chain tweeted on Thursday it was hurtful of M&S to try to "profit off" a dish originally created by Dishoom, especially considering how much the coronavirus pandemic has affected the hospitality industry.
"There are many ways to entice people to visit a store. To attempt to profit off a dish that has become synonymous with a restaurant (which, like so many others, is doing everything in its power to stay afloat, to rebuild, and to protect over 950 jobs), seems to me pretty cheeky," Dishoom wrote on Twitter.
"After a year in which our cafés have been mostly closed, a year when we've spent many months (and countless sleepless nights) perfecting our first-ever meal kit to be able to bring this much-loved dish to the doors of patrons nationwide, it hurts all the more.
"This isn't just a bacon naan roll, this is the Dishoom Bacon Naan Roll, and it means a great deal more to us than you know."
The row started after M&S posted a video on Instagram that showed its chef Chris Baber teaching viewers how to cook a chilli, egg and bacon naan, which Dishoom claimed drew inspiration from its own Bacon Naan Roll. M&S did not originally give credit to the restaurant chain.
"A rather famous retailer has, in the past days, been peddling the recipe for a dish that is especially close to our hearts," Dishoom tweeted.
"They say imitation is the sincerest form of flattery, and we were, of course, a little taken aback to have inspired such an esteemed establishment. It has since become clear that this recipe is now being used, without any credit, across numerous paid advertising platforms – and for all our flippancy, in honesty, it hurts."
After many of Dishoom's patrons commented on M&S's Instagram post and demanded action, the supermarket credited the original recipe by adding to the caption: "Inspired by the wonderful dish @dishoom".
However, Dishoom urged M&S to take further action by linking their DYI home kit or its cooking book where the original recipe can be found on its platforms.
The Indian restaurant also suggested M&S donate "a small percentage of your advertising budget to our good friends" Magic Breakfast, an organisation that provides free meals to school children across the country.
On Friday, M&S responded by tweeting: "@Dishoom we think you're great at what you do and want to stay friends. Asking our followers to support the incredible work Dishoom do by booking a table or buying their delicious naan kit https://store.dishoom.com/bacon-naan-roll-kit. We're reaching out to @magic_breakfast."
The dispute follows a high-profile legal battle between M&S and Aldi earlier this year, in which the former claimed the latter's Cuthbert the Caterpillar cake infringed its trademark for popular birthday staple Colin the Caterpillar. At the time, Aldi said it would donate money from the sales of Cuthbert to cancer charities.