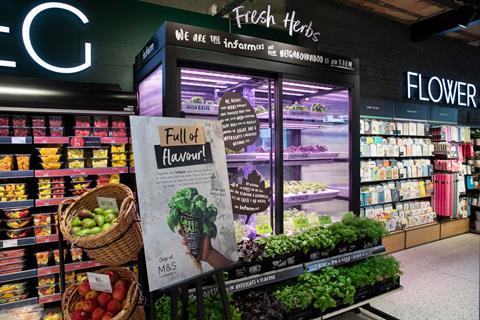 Marks & Spencer has extended its packaging-free grocery concept to an additional eight stores across the UK.
The retailer announced it the rollout of its refillable programme, Fill Your Own, to a total of 11 stores – including Stratford City London, Lisburn, and Sears Solihull.
The scheme, which was first launched in December 2019, lets customers buy a varied selection of refillable groceries, such as pasta, cereal, nuts and frozen fruit.
"Fill Your Own has been hugely popular with our customers since it launched," said M&S head of sustainable business Carmel McQuaid. "They've told us that it's easy to understand, offers a huge variety of the high-quality, great value M&S products they love and supports with portion control."
Fill Your Own currently offers over 60 lines of refillable groceries, but M&S is set to bring that number to nearly 100 based on consumer feedback. By autumn, shoppers will be able to refill their preferred container of choice with items like wasabi peas, dried apple, and giant wholewheat couscous. The company said that over 30% of refillable products had outsold their packaged equivalents.
"Fill Your Own is helping our customers – and our business – to reduce and reuse plastic and this initiative has the potential to save thousands of units each year," McQuaid added.
Other branches currently featuring the Fill Your Own concept include Manchester, Hedge End, Staines Two Rivers, Gyle, Vangarde Monks, and Wolstanton Stoke. The M&S stores in Aintree and Meadowhall will join the list by mid-June.
The move is part of M&S's larger plans to reduce single-use packaging and avoid the use of 300,000 individual units over the next year. It also falls within the retailer's 'Plan A' framework, which aims to reduce food waste across the whole supply chain.
"It is through Plan A – our multi-year sustainability action plan – that we address the risks and opportunities that environmental and societal issues present to us as a business," said CEO Steve Rowe in his Plan A 2021 report introduction. "It drives us to make better choices to ensure M&S, and the precious resources and planet we rely on, are in better shape for the future."