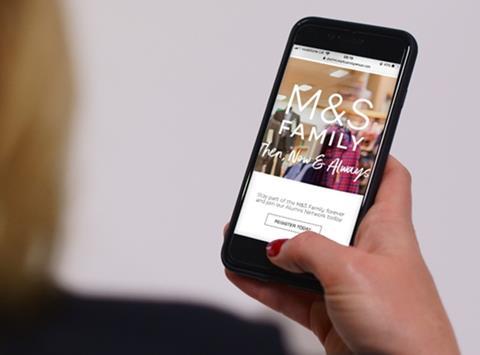 M&S is launching a digital network for former employees to share memories and images from their time working for the business.
The network, called 'M&S Family', will feature interviews with alumni colleagues and images and stories from former teams.
The premiere event will be a Q&A featuring Ocado Retail CEO and M&S's former strategy director Mel Smith next month. The first interview will be with Ian Walker, co-founder of sustainability-focused dry cleaning business Laundry Republic. Walker had his first job at M&S's Guildford store.
M&S Family, in partnership with alumni management platform Enterprise Alumni, will also feature images and stories from its company archive.
The network will provide details on how former employees can get involved with M&S's latest initiatives, as well as job and networking opportunities and news about the business.
Any employee who has worked for the retailer in the past can sign up via M&S's website.
"It's our people – past and present – that make M&S special," said M&S chief strategy and transformation director Katie Bickerstaffe.
"When you work here, you join a big, diverse family and become part of a business and brand that's stood the test of time. That connection never leaves you, even when you move on.
"We have a huge community of former colleagues who remain our most passionate advocates and constructive critics. But to date, we've barely scratched the surface when it comes to tapping into the enthusiasm and opportunity our fantastic extended M&S family can provide – be that supporting our recruitment pipeline, mentoring, backing our community initiatives or providing candid feedback on our products and services.
"With the launch of our new network we want everyone to feel they can remain part of the family and we have an enormous opportunity to build an incredible community that supports each other and can help us transform M&S."