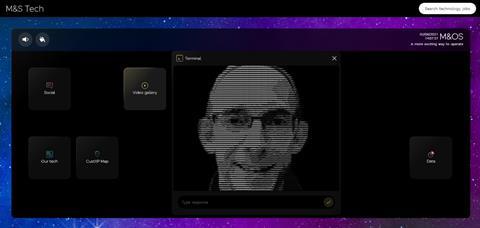 M&S has launched a microsite which mimics a software developer's code input screen as part of a major engineer recruitment drive.
The microsite – called M&OS – has been "made to specifically appeal to the types of candidates M&S Tech wants to attract" the supermarket said, and "simulate the operating system they're used to using".
"We're working to establish ourselves as a destination for the very best tech practitioners around. Our team is based on the principles of creative thinking, innovation, and above all, trying something different – and that's what our bespoke M&OS site is all about," said M&S chief technology officer Mike Yorwerth.
The launch of the site marks the start of a major recruitment drive by M&S in which it is seeking 70 software engineers.
The roles – ranging from software engineer to engineering manager and principal engineer – will help the supermarket meet its ambition to be "the digital-first, market-leading retailer we know we can be – truly pushing technology from our web stacks to machine learning, as far as possible", the retailer said.
The new recruits will be working across the business, including on M&S.com, its mobile apps, AI-driven Sparks programme and on in-store initiatives such as digital check-in for click & collect orders.
The roles are based at M&S's London headquarters, with flexible working arrangements available.
"We're putting responsibility for our digital transformation in the hands of some seriously inspiring software engineers," Yorwerth added.