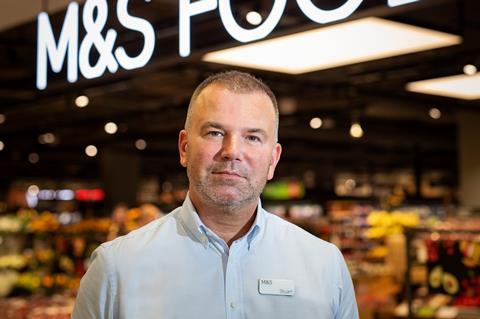 M&S has announced a shake-up of its senior management structure that sees Food MD Stuart Machin become joint chief operating officer.
Machin, who has been M&S Food MD since 2018, will serve alongside Katie Bickerstaffe, who is also being promoted to joint COO. Bickerstaffe has been chief strategy and transformation director since February last year.
Machin will retain his responsibilities as MD of the food business, but will now take on overall oversight of store operations and development, including property, as well as IT.
Bickerstaffe will have oversight of the clothing and home and international businesses, plus data and services.
Meanwhile chief financial officer Eoin Tonge is having strategy and transformation planning added to his existing remit.
Retail, operations and property director Sacha Berendji will move to focusing on modernising stores, including the so-called 'store renewal' programme which has seen M&S introduce bigger food ranges in a number of branches since 2019. Berendji gains responsibility for 'Future Stores', M&S said.
M&S said it was part of a new phase in its far-reaching transformation programme, which began three years ago and had already seen changes to its culture, stores and use of technology.
"Over the last three years we have built a great team of people at M&S and covered a lot of ground," said M&S CEO Steve Rowe. "Now we need to move into the next phase, and that means accelerating the pace of change, and Stuart and Katie will bring even more impetus to our core businesses."
In an internal memo to M&S staff today, Rowe said the business was "moving to the next phase of our transformation and now is the right time to get us set up for future growth".
The memo said: "To do that I want to spend more time on the strategic initiatives that will deliver a path to future growth. I am therefore asking Stuart Machin and Katie Bickerstaffe to share the operational oversight of the core businesses as joint chief operating officers. I am also asking Eoin to play a broader role in planning, strategy and transformation."
Rowe added: "This renewed executive team structure comes at an important time, as the lockdowns recede and we can begin to see the very positive results from all of the hard work you have put in."
Richard Price and Paul Friston are remaining MD of Clothing and Home respectively in the reshuffle, which comes less than a month after M&S created four new director roles in the food business.
The executive committee would continue to operate as the business' central decision-making body and its membership was unchanged, M&S said in its announcement today.
The retailer is due to announce its full-year results next Wednesday, 26 May.