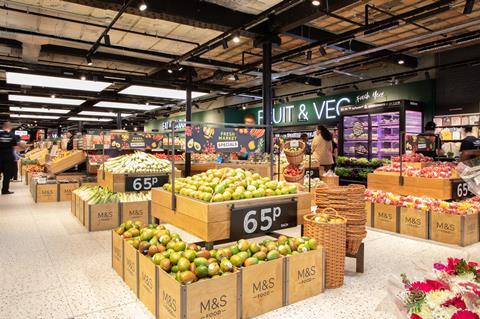 M&S is relaunching its 'Fresh Market Update' TV and online ad campaign, showcasing the retailer's farming partners.
Nineteen ads are to air over four months across ITV, Channel 4 and YouTube, each introduced by ITV weather presenter Lucy Verasamy.
The Fresh Market Update campaign, which first ran last year, promotes the quality of the retailer's 'Select Farms' and its commitments to sustainability, featuring interviews with farmers.
The latest campaign will see M&S introducing 30 million bees to 28 partner farms this summer to boost pollination, "improve product quality and produce delicious British honey". It's part of a new five-year programme M&S is embarking on to support Select Farmers in responding to environmental challenges, it said.
From this month, M&S is also expanding its RSPCA Assured range in a move it said would give it more products certified to the standard than any other retailer. It is to include all M&S's fresh eggs, pork, farmed salmon and trout, Oakham Gold chicken and milk.
"I'm incredibly proud that we've raised the bar yet again for 2021, with an industry-leading bee programme, boosting biodiversity on our Select Farms and the introduction of the biggest range of RSPCA Assured products on the market," said M&S Food MD Stuart Machin.
"As an own-brand food retailer, our founders understood the value in building long-term trusted partnerships and that approach remains central to how we do business today.
"It's thanks to our unique supplier relationships that we can deliver on our customer promise of trusted value – with delicious, exceptional quality fresh produce and meat – and in our new campaign we want to show the enormous effort our Select Farm partners put in behind the scenes to make M&S food special."
RSPCA Assured head of farming Joe Bailey said: "We're delighted that M&S is leading the way in committing to stocking the widest range of RSPCA Assured products of any UK retailer. We know customers recognise and trust the RSPCA Assured logo and standards and it helps them to make better choices on their weekly shop."
M&S said its new campaign would reach over 60% of the population throughout its run, and would focus on value as well as quality.
The ads will also feature M&S chef Chris Baber showcasing family recipes, while an M&S blog will track the bee programme's progress.