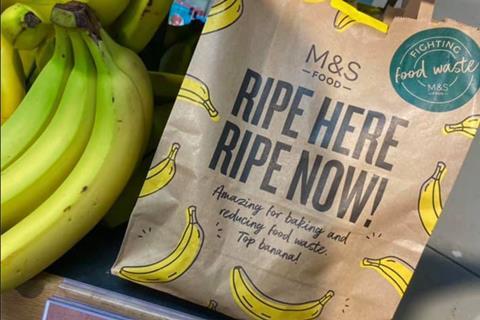 M&S announced it is rolling out a new 25p banana bundle scheme in stores across England to help reduce food waste.
The retailer said it is going to bundle up extra ripe bananas in a cardboard bag and sell them for a lower price in an attempt to minimise the amount of unsold food.
Customers will be able to grab a 'Go Bananas' bag containing a minimum of three bananas and two recipe cards. The cards are set to feature popular baking ideas such as banana bread and vegan banana muffins, which are traditionally made with extra ripe fruit.
"Bananas are among the most wasted produce at supermarkets as customers typically like to buy spotless yellow bananas to ripen at home, so we're excited to be extending our Go Bananas bags to more M&S stores, and further reduce food waste by offering bananas that are absolutely perfect for baking – and at great value," said fruit buyer at M&S, Pippa Masters.
"Our Go Bananas bags are helping us to become more relevant, more often for customers who are looking to enjoy baking tasty and convenient food at home."
M&S said the 'Go Bananas' scheme is now being introduced to stores nationwide after a "hugely successful" trial that took place at 10 branches. According to the upmarket retailer, a total of 6,800 banana bags were bought during the trial period, which amounted to a total of 18,000 saved units of loose bananas that would have otherwise likely gone to waste.
Read more: Marks & Spencer extends surplus frozen bread initiative to 200 stores
The move is part of M&S's larger plans to halve food waste across its entire operations by 2030. Other recent initiatives included extending its surplus frozen bread initiative to 200 stores nationwide, as well as partnering with Neighbourly, an organisation that links stores to food charities, to redistribute excess food.
The redistribution programme saw nearly 5,000 tones of surplus food, or 11.8 million meals, being donated in 2020/2021, M&S said in this year's sustainability report.