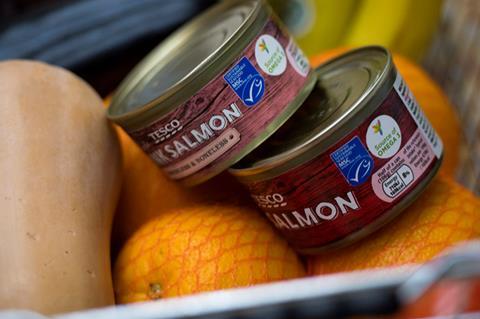 Sales of sustainable seafood reached an all-time high increasing by almost 6% during 2020-21, new figures from the Marine Stewardship Council show.
Altogether, 1,267,000 tonnes of blue MSC-labelled seafood was sold globally between April 2020 and March 2021, compared with 1,197,000 tonnes the year before, the findings released as part of the MSC's annual report revealed.
The growth in sales was driven by increases in a "growing consumer awareness of the need to protect our oceans" coupled with "changes in shopping habits during the pandemic and growing commitments to sustainability from seafood brands", the international not-for-profit said.
Sales of frozen seafood products with the MSC label grew by 26% – the largest increase overall – while sales of MSC labelled canned fish rose by almost 4% globally.
This was driven in part by a 50% year-on-year increase in sales of MSC-labelled tuna products, putting global sales on course to reach 110,000 tonnes a year, MSC claimed.
The report showed increases in the availability and sales of sustainable seafood products had been supported by a growth in supply. The number of MSC certified fisheries increased to 421 in 2020/21, with those fisheries now collectively responsible for 14% of all wild marine catch.  
In addition, a 5% increase in the number of organisations – including supermarkets, restaurants, processors, distributors and warehouses – certified to handle, process and package MSC certified seafood was recorded.
MSC CEO Rupert Howes said more brands were making "bold commitments and more consumers continue to buy sustainably sourced fish" despite the unprecedented challenges of the pandemic.
However, he warned that too many governments were continuing to "put short-term interests before sustainability".
"Globally the level of overfishing continues to rise," he said. "Institutional inertia is out of step with growing public activism around the oceans. The pandemic has heightened awareness of the need to protect our valuable natural resources. We're calling on governments to seize this moment as an opportunity to support sustainable fisheries and seafood businesses by committing to measures that safeguard our fish stocks."