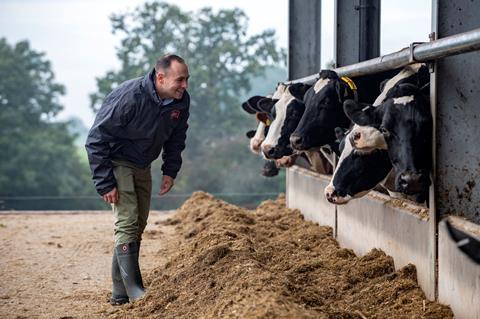 Müller Milk & Ingredients has renewed its three-year milk supply contract with Lidl GB and introduced a new fixed-price offer for Müller farmers supplying the discounter.
From 1 July, Müller Direct farmers will have the option to secure up to 50% of their milk supply at a 29ppl fixed price, for three years. The remainder of the volume they produce will attract the market-related Müller Direct milk price.
The new long-term supply deal follows Lidl's switch to Müller as its main milk supplier in 2018, and means the dairy giant will continue to supply the lion's share of Lidl's liquid milk. It would also help dairy farmers in Britain "manage price volatility and gain long-term financial certainty", Müller said.
The move will also see Müller continue to support Lidl's Grassroots Dairy Partnership, which provides a network for the next generation of dairy farmers on Lidl's contract to engage directly with the discounter, as well as with their own peers, to overcome challenges facing the sector.
Lidl said the Grassroots Partnership would now support dairy farmers in the programme to help reduce on-farm carbon emissions. It would also offer young farmers the opportunity to collaborate with those working in other sectors within Lidl's supply chain as part of an information exchange effort to share best practice.
The vast majority of Müller Direct farmers are now part of the Müller Advantage programme, which incentivises them to address a range of important issues for consumers and customers, such as herd health and reductions in environmental impact.
"We are delighted to extend our long-term partnership with Lidl GB," said Müller Milk & Ingredients COO Rob Hutchison.
"Our fixed price option will help farmers by giving them stability and confidence in their future operations."
Lidl GB chief commercial officer Ryan McDonnell said the new agreement with Müller would "create security of supply for our farmers and bring the best of British to our customers".
He added: "Sustainability is at the heart of everything we do and, through this initiative, we are proud to support the next generation of farmers to tackle some of the biggest challenges in the industry today, while providing the stability needed for investment and future growth."