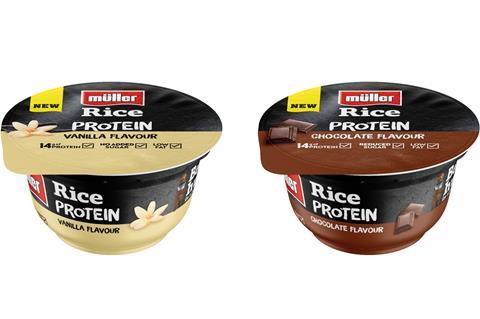 Müller is hoping to tap the protein trend with its first Müller Rice NPD in more than three years.
Said to contain 14g of protein per pot, two single-pot variants – chocolate and vanilla (rsp: £1/180g) – will roll into Morrisons stores from next Monday (22 March).
The dairy giant said it had specifically targeted a perceived gap in the market for high-protein products which act as a "hunger filler".
According to 2019 Mintel sports nutrition research, 30% of consumption occasions for high-protein products were down to hunger. However, Müller said this was an area in which consumers currently faced a "limited choice".
"When we looked at the data behind the protein trend, it became clear that almost a third of high-protein shoppers were looking for something which keeps them fuller for longer," said Michael Inpong, strategy and marketing director at Müller Yogurt & Desserts.
"By introducing a hunger filler option like Müller Rice Protein, there is clear potential for category growth. Shoppers are looking for a product which meets their needs, but they are also looking for well-known and trusted brands. We're well-placed to meet this opportunity."
The launch of the duo would be supported by an ongoing Müller Rice marketing campaign on social media channels, the company said.
It comes after the dairy giant added a yoghurt to its Corner range that was designed in collaboration with its brand ambassador and reigning world 200m champion Dina Asher-Smith.
Müller Corner Creations by Dina Asher-Smith has gone on sale in a six-pack format in Asda and Morrisons and has been supported by a multimillion-pound marketing campaign starring the athlete, which has taken in TV and social media. Asher-Smith is one of Team GB's main medal hopes for this summer's postponed Tokyo Olympics.