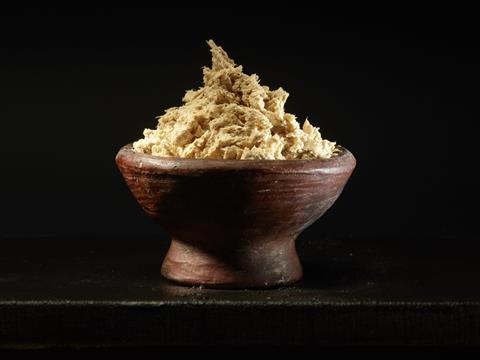 Vegan protein startup Enough has raised €42m (£36m) of new funding to scale up production as it seeks to produce a million tonnes of sustainable protein by 2032.
The Series B funding has been led by Nutreco and Olympic Investments, with new investors including AXA IM Alts through the AXA Impact Fund – Climate & Biodiversity, HAL Investments and Tailored Solutions.
Existing investors CPT Capital and Scottish Enterprise are also participating and CPT Capital will remain the largest shareholder in the company.
Co-founded in Glasgow, Enough – formally known as 3FBio – makes its trademarked Abunda mycoprotein through what it describes as a zero-waste fermentation process.
The company is targeting growing over a million tonnes by 2032, which is the equivalent of replacing five million cows, over a billion chickens or reducing more than six million tonnes of CO2 emissions.
Enough is currently building a protein factory, which will initially produce 10,000 tonnes per annum.
"The market for delicious, nutritious vegan products is growing at a pace that requires a step change in the supply of sustainable ingredients," said Jim Laird, CEO of Enough. "This will supercharge our focus, which prioritises collaboration and B2B supply to maximise the pace of growth and reach into the market.
"We are privileged by support from investors who share our focus on making sustainable protein. As a long-standing dedicated investor in the alternative protein space, CPT Capital has unmatched experience investing in companies disrupting the food systems."
He said the funding round would strengthen the company's board with "the combination of expertise and impact focus from AXA IM Alts, Nutreco who provide strategic insights, and by HAL Investments, who share our view regarding the need for scalable technologies and food products to cater for growth of alternative proteins and meat substitutes in decades to come".
Nutreco CEO Rob Koremans added: "Enough is an exciting business with real potential to transform protein production. This partnership perfectly supports our ambitions to accelerate the contribution we can make to the challenge of feeding a growing global population. If we are serious about meeting this objective in a sustainable way, we will need to produce protein from a variety of sources such as fermentation, which is very much a shared goal."
Enough claims its Abunda mycoprotein can be produced more sustainably and at a lower cost than other protein options.
Last month it signed an agreement with Unilever to bring a mycoprotein base to its The Vegetarian Butcher range.