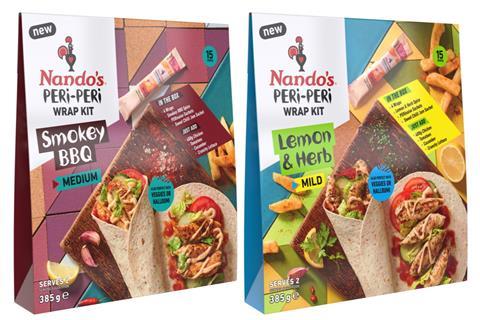 Nando's is launching a trio of Wrap Kits for shoppers looking to recreate the popular chain's dishes at home.
The trio, Lemon & Herb, Medium Peri Peri and Smokey BBQ Peri Peri, each contain four wraps, a seasoning pack, a sachet of sweet chilli jam and two sachets of Perinaise (rsp: £3.20). They will roll out from March 8.
They are billed as offering "the authentic taste and flavour of the restaurant hero menu item" and include the miniature cutout flags which would be served with the dish in Nando's venues.
Meal kits were a "key strategic area of growth" for the brand, said Sophie Lindfield, senior brand manager at All About Food, which manufactures the range. "We understand the growing consumer need of recreating their favourite restaurant's hero menu items in their own way at home."
Nando's later this year plans to reimagine its marinades ranges as "quick marinades" with an improved recipe claimed to deliver the flavour of a full marinade in 30 minutes.
The marinades category as a whole "has typically seen long-term decline, with shoppers leaving the category to choose more convenient solutions", said Nando's. "However, we have seen a huge impact from the pandemic, with an influx of shoppers buying back into marinades with more time available and increased working from home."
The NPD comes on the back of a stellar year in the mults for Nando's: sales of its sauces grew 26.93% to £25.89m, adding a cool £5.49m to its value [Nielsen 52 w/e 5 September 2020].