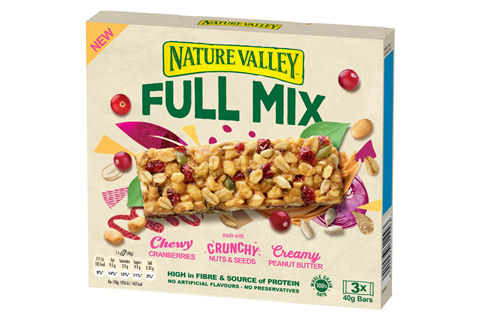 Nature Valley is bringing its Full Mix bars to the UK.
The bars, which are packed with berries, seeds, peanuts, wholegrain oats and peanut butter, originally launched in the US last year.
They are high in fibre and a source of protein, said Nature Valley.
Billed as offering a "multi-texture, multi-flavour experience", they will roll out in two flavours: Peanut Butter & Blueberry and Peanut Butter & Cranberry.
A multipack format will roll into Morrisons from 26 July, with further listings in Tesco, Sainsbury's and Co-op to follow in August (rsp: £2.89/3x40g).
General Mills marketing manager for snacking Roisin Witort said the NPD would satisfy "unmet consumer needs".
She added: "This innovation will hit the nail on the head with consumers looking for a truly indulgent yet wholesome snack with a full variety of tastes and textures in one bar."
The move follows a raft of NPD in the snack bar category over recent months.
Earlier this month, Kellogg's added a duo of nut butter snack bars to its Crunchy Nut range.
Made with 40% nuts and real nut butter, the bars were billed as "the perfect treat for on-the-go snacking".
In January, Belvita moved outside of breakfast for the first time with a new range of baked fruit and nut bars.
In the same month, Cadbury set its sights on health-conscious shoppers with the launch of its snack bar brand, Nuttier, which offer 40% whole fruit and nuts, embedded on a base of Cadbury milk chocolate.