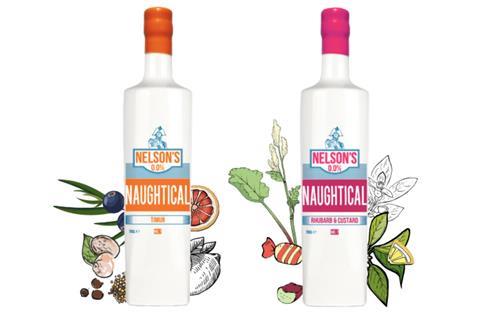 Nelson's is moving into low & no for the first time with a duo of 0% spirits.
The brand's new 'Naughtical' range comprises alcohol-free versions of its existing Timur and Rhubarb & Custard gins (rsp: £22/700ml).
Rhubarb & Custard features rhubarb essence and Madagascan vanilla. Timur, meanwhile, features timur pepper and is billed as having a "unique aroma".
Nelson's owner and master distiller Neil Harrison said the drinks would cater to the "ever-growing number of people who are turning to low or no alcohol" alternatives.
"We have selected two of our bestselling spirits which we believe are well suited to an alcohol-free option and used all our gin distilling knowledge and experience to create the best 0% experience," he said.
Early reviews of the products had been "extremely positive", he added.
It comes amid a swathe of gin-inspired launches in the low & no spirits category.
Over recent months, Diageo has launched zero-alcohol versions of its Gordon's and Tanqueray gin brands.
Non-alcoholic spirits brand Straight & Narrow is planning a September launch four of its 'Gøn' drinks in Classic, Rhubarb & Ginger, Cucumber & Mint and Mixed Berry flavours.