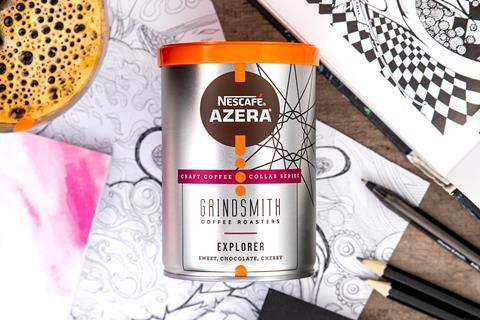 Nestlé has boosted its Nescafé range with a slew of launches – including what it is touting as the UK's first "craft" instant coffee.
The brand's new Azera 'Craft' is made in collaboration with Manchester coffee roastery Grindsmith. It claims the launch is "the UK's first craft coffee in an instant format" (rsp: £5.49/80g).
Nescafé has also added a new 'My Way Latte' – an instant latte that can be customised to shoppers' individual taste by adding a range of different milks.
It features a 'latte base' that captures air when mixed with hot water, which infuses the milk with bubbles to create froth.
The brand said the NPD would tap the trend personalisation and offer a balance "between quality and convenience".
It has rolled into Sainsbury's, with further retailers to follow over the year (rsp: £2.98/11 serves).
Lastly, it has rolled out a duo of new posh coffees called the Gold Roastery Collection. Two blends – Dark Roast and Light Roast – have launched. The former is billed as having "notes of rich, dark chooclate and roasted nut", while the latter had "notes of caramelised honey and toasted biscuits", said the brand.
It comes as last week saw Nestlé launch a new 'Zebra' version of its Kit Kat brand.