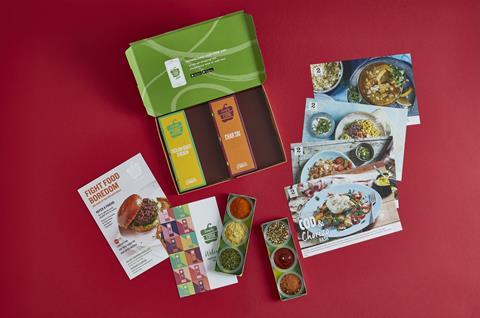 Nestlé has doubled down on its investments in UK recipe kit players with the acquisition of SimplyCook for an undisclosed sum.
The deal follows the takeover of Mindful Chef in November last year as the Swiss food giant moved to increase its exposure to the flourishing direct-to-consumer market.
SimplyCook founder Oli Ashness, who launched the business in 2014, will continue to lead the recipe kit company from its base in London, with support from Nestlé.
The business has grown rapidly since its formation, quickly moving into retail with listings in Tesco, Asda, Co-op and Waitrose.
Nestlé CEO Stefano Agostini said the deal was "an ideal partnership" for both parties as the group continued to transform its portfolio and SimplyCook accelerated its growth.
"There is a growing demand for great-tasting, nutritionally balanced food and this move underlines our focus on investing in businesses with attractive growth prospects and acting on current trends," he added.
Ashness said: "The more we got talking to Nestlé the more we realised that our ambitions and vision for the business aligned with what Nestlé sees as the right path for the SimplyCook business.
"Nestlé's experience, operational expertise, and international knowhow gives us the opportunity to expand further in the UK and beyond, making cooking more accessible for millions more consumers in far less time than we previously imagined.
"We already have a great team with a very diverse set of skills which will continue to run the business with the same entrepreneurial spirit and data-driven approach, putting the consumer at the centre of everything we do, and I look forward to seeing what the team can deliver with some exciting doors now opened to us."
SimplyCook offers more than 130 recipes, with up to 18 different ingredients, and is delivered to consumers in a recyclable, letterbox-sized box.
The business has yet to file full accounts at Companies House, but predicted (when it raised £2.3m of additional funding in January last year) revenues to hit around £15m in 2020. However, this was prior to the coronavirus pandemic, which has boosted demand for DTC and recipe kit businesses.
Investor interest in the food delivery business has been high in the past year, with Gousto achieving a valuation of $1bn and Italian food giant Barilla snapping up DTC business Pasta Evangelists last month.