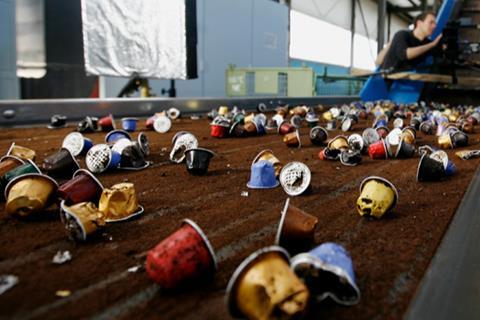 Podback, the coffee pod recycling scheme created by Nestlé and rival JDE, has kicked off across the UK this week.
Through the scheme – which The Grocer first revealed was in the works last year – shoppers will be able to recycle coffee pods by taking them to a Yodel collection point in stores across the UK.
Recycling bags can be ordered from participating brands online, and will also be available in supermarkets over the coming months.
Meanwhile, Cheltenham Borough Council and South Derbyshire Council will be the first UK authorities to collect coffee pods alongside regular household waste via the scheme from 10 May.
Nestlé and JDE plan to expand the areas offering kerbside collection, and Chichester District Council will join their ranks over the next two months.
The launch marked "a significant step towards this ambition and joining forces with our industry partners to deliver kerbside collection will make recycling pods much simpler and easier for customers," said Podback board director and Nespresso UK managing director Guillaume Chesneau.