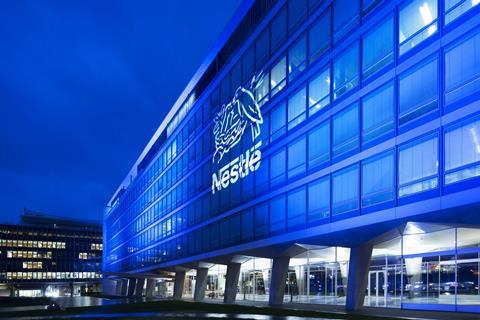 Global foods giant Nestlé has shown the benefits of diversification and shedding low-growth assets with its strongest growth numbers in five years.
Reporting its annual results on Thursday, the Swiss conglomerate posted organic growth in 2020 of 3.6%, which improved on the 3.5% growth in 2019 and was its highest since 2015.
Petcare was the group's standout performer, with its premium brands Purina Pro Plan, Purina One and Felix driving the category to organic growth of 9.7%. As workers swapped the office for at-home working, consumption of Nestlé's coffee products also boomed during the year too, with "mid-single-digit" growth driven by demand for Starbucks products.
There was also good performance from dairy, boosted by home-baking products, vegetarian and plant-based foods and sales within Nestlé Health Science.
Those category wins more than compensated for a drop in confectionery sales as demand for impulse and gifting products slumped, while its waters division was hit by its exposure to out-of-home channels. Overall, Nestlé's growth was driven by volume sales, with pricing only accounting for 0.4% of extra revenue.
Headline sales fell back 8.9% to CHF84.3bn (£67.4bn) due to a 7.9% hit from foreign exchange and the strength of the Swiss franc and portfolio divestments, including Nestlé Skin Health and its US ice cream business, which reduced total sales by 4.6% but boosted organic growth.
Hargreaves Lansdown commented: "It's encouraging to see sales are being driven by increased volumes… Crucially, the group seems convinced it will be able to keep sales growth heading in the right direction over the medium term, even as some of the Covid tailwinds start to ease."
Nestlé said it expected to see a continued increase in organic sales growth towards a mid-single-digit rate next year. However, the profit picture was slightly less rosy, with CHF420m of coronavirus-related costs contributing to an 8.3% drop in underlying operating profits to €14.9bn.
However, the group said its underlying trading operating profit margin should continue to see "moderate improvement" going forwards.
Analysts at Barclays welcomed the "reassuring outlook", while Jefferies said guidance "feels consistent directionally with consensus".
The results came a day after Nestlé confirmed the US$4.3bn (£3.1bn) deal to sell its regional spring water brands, purified water business and beverage delivery service in the US and Canada to One Rock Capital Partners and Metropoulos & Co as it continues to shake up its portfolio to prioritise faster growing categories.
Jefferies said the sale "looks like a good business… with Nestlé ticking a further and potentially difficult portfolio box in the process".
Nestlé shares were down 0.6% to CHF99.73 in morning trading on Thursday.