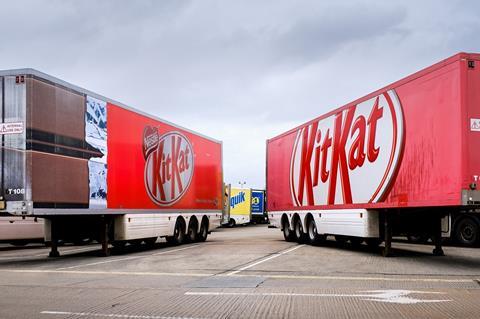 Confectionery giant Nestlé has announced nearly 600 jobs are at risk under plans to focus production on its biggest brands, such as Kit Kat, a move that will see its factory in Fawdon, near Newcastle, close.
The company said the move was part of a £29.4m investment in production plants in York and Halifax, with 475 jobs to go at Fawdon when it shuts at the end of 2023. A further 98 jobs are set to go at York despite the investment in the site.
Nestlé claimed the decision would lead to greater efficiency, including the capacity to produce 500,000 more two-finger Kit Kats per day, and allow it to manufacture higher volumes of its most popular lines while operating a smaller number of factories.
Nestlé said it had announced the proposals as early as possible to provide the maximum time for consultation with unions and workers.
It said the Fawdon factory, which opened in 1958, was home to many of its "smaller, low-growth brands", including Rolos, Munchies, Fruit Pastilles, Fruit Gums and Matchmakers.
Nestlé said it had undergone a number of changes in the past three years to reduce complexity and invested around £9.5m introducing new products like Smarties Buttons, Milkybar Mix-ups and Mini Eggs, but production of those products would now move to other factories, primarily Halifax, and some elswhere in Europe.
It denied the closure was in any way connected to the pandemic or Brexit and said it was part of a long-term plan to modernise production.
"If these proposals go ahead, we would expect, in future, to be manufacturing a higher volume of products overall while operating a smaller number of factories," said a Nestlé spokeswoman. She said £20.2m would be invested in the York factory, leading to modernisation of production in the city where the Kit Kat brand was first created in 1935. The Halifax factory would get £9m spent on improvements.
The spokeswoman added: "We do not underestimate the impact that the closure of the Fawdon factory would have on the local area and, as part of the consultation, we want to work with the local community to find ways that we can support the area and our employees if these proposals were to go ahead.
"We believe these proposals would strengthen the UK's position as a critically important hub for Nestlé Confectionery and home to the expert manufacture of many of our most popular brands including Kit Kat, Aero and Quality Street.
"Nevertheless, we very much regret the uncertainty this announcement will cause our people and their families and we want to make sure they are supported throughout this process. There is now the time and the space for all parties to engage in a constructive consultation around today's proposals and we welcome those discussions."
Union bosses said the move was a kick in the teeth for Newcastle workers who had helped the business through the pandemic.
"To ruin hundreds of lives in a ruthless pursuit of profits, to the very workers who've kept the company going during a global pandemic, is sickening," said Ross Murdoch, GMB national officer.
"Nestlé is the largest food producer in the world, with astronomical profits. It can afford to treat workers right. Instead, they've allowed factories to deteriorate, outsourced production overseas and now slashed 600 jobs.
"It's corporate greed at its worst – GMB and Unite will fight for every job."
Joe Clarke, Unite national officer for the food and drink industry, said: "The news about Nestlé's plans for its respective sites in Newcastle and York is a cruel body blow to the dedicated workforces, their families and, more widely, the regional economies.
"We will be asking for an urgent meeting with the management to ascertain the business rationale for these decisions from a multinational company which is highly profitable.
"The fact these announcements have come during a global pandemic is particularly bitter and heartless. Unite will be liaising closely with the GMB union to strongly campaign against these misguided plans whose only motive seems to be increasing profits. We will also be giving maximum support to our members and their families in the coming weeks and months."