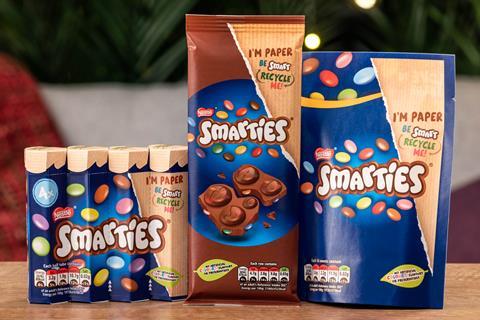 Nestlé is switching its entire range of Smarties products into paper packaging.
The move will see all Smarties lines – including sharing bags, multipacks and giant hexatubes – switched to packaging made from coated paper, paper labels or cartonboard, all produced from sustainably sourced and recyclable material.
Nestlé said this would make Smarties the first global confectionery brand to switch to recyclable paper packaging across all products, and its global head of confectionery Alexander von Maillot said the move was "one our of key suitable packaging initiatives in the confectionery category".
It added the packaging switch-up would remove approximately 250 million plastic packs sold worldwide every year.
The new packs will begin to roll out at the beginning of April. The brand's sharing blocks are already sold in paper packs, which launched in June.
Nestlé's Confectionery Product Technology Centre head Louise Barrett said the development of the paper-based packaging solutions had required the pioneering of new materials, as well as testing at both Nestlé's R&D centre in York and the Swiss-based Institute of Packaging Sciences.
Nestlé has adapted existing manufacturing lines to allow for the "careful handling" required for paper, she added.
Alongside the packaging announcement, Smarties Blocks are relaunching with a new "playful" mould and with two new flavours – Orange Chocolate and White Chocolate, with the latter exclusive to Asda (rsp: £1/90g).