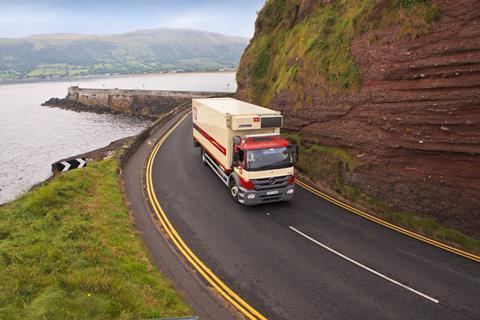 Blockchain developer Elandbridge has developed a "frictionless border pass" for the GB-NI border, which it claims is the first of its kind to address the complex challenges at the Irish Sea border.
The solution – named TruckPass – will use blockchain technology, facial recognition and geolocation to assure border officials that loads have not been tampered with on transit, thereby looking to ease the requirement for checks on food.
Elandbridge CEO Charles Le Gallais said the idea behind TruckPass was to create a "mobile bonded warehouse" so that sealed loads could "transit the border and be opened at the distant end without the need for border inspection".
Foods such as meat, dairy and fish must now be certified by vets before moving across the Irish Sea, causing particular issues for mixed 'groupage' loads, which have seen some of the worst disruption.
Under EU laws, following veterinary sign-off the lorry must be physically sealed at the point of destination. However, while this is relatively simple for a company sending a full lorry from a single site, groupage movements often involve picking up goods from several different warehouses.
The complexity has meant many hauliers have refused to transport groupage food loads altogether.
TruckPass uses blockchain technology to electronically seal a pallet of goods, thereby removing the need for the entire lorry to be sealed. Once the seal is in place, it creates a randomly generated number that is associated with the consignment. As long as the seal isn't broken, the number will not change, and any inspector could be confident it has not been interfered with, said Le Gallais.
Blockchain will also allow for each load's seal to correspond to its paperwork, including any veterinary certificates and safety and security declarations.
TruckPass aims to give further reassurance to officials by including facial recognition and geolocation in the seal so only the authorised person in the right place can legitimately open it.
While it was still only a prototype, Le Gallais said he had got "pretty good political buy-in" following discussions with HMRC, Defra and the Border and Protocol Delivery Group, as well as departments across the NI executive.
This includes registration on the government's Future Borders programme designed to bring on board suppliers who can create and implement a range of digital services.
"The indications we've had from them is that nobody else has come up with something quite as innovative as this," said Le Gallais.
The UK and NI governments launched schemes to try and ease the burden on groupage loads earlier this year, including ways to seal pallets in a tamper-proof way.
The potential for blockchain solving the problems around the Irish Sea border have long been discussed. In 2018, then-Chancellor Philip Hammond said it was "the most obvious technology" for the now-realised issues.
Yet some believe it will be many years before the technology is advanced enough to make a genuine impact.
"Even partial usage is years away," Nick Botton, author of a policy paper on blockchain and Brexit for thinktank the European Centre for International Political Economy, told The Grocer last month.
"There's a good chance the UK will realise its mistake and rejoin the EU before blockchain sees any significant implementation within customs borders."