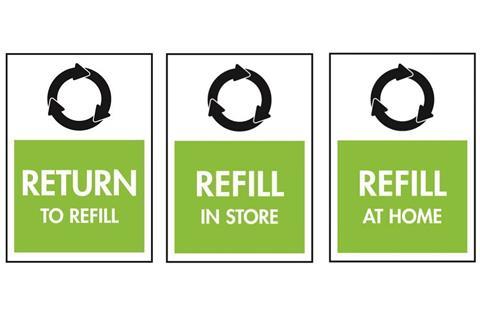 Thousands of products are to start carrying new labels urging customers to "refill or return" them to supermarkets, in a major move in the war on plastic.
The new labels, backed by all major supermarkets and most major suppliers, were launched this week and will be carried on food and non-food packaging, provided it is designed to be reused at least 10 times.
The Grocer revealed in October not-for-profit recycling body The On-Pack Recycling Label (OPRL) was developing the label, which it hoped would be a "game changer" in the battle to create a closed loop for plastic packaging.
The new labels come in three varieties advising shoppers to "refill at home", "refill in store" or "return to refill" depending on the type of product and packaging.
Original plans to use the phrase "reuse" were jettisoned because of fears it could encourage people to use products for other purposes, such as storage, gardening or art, rather than the primary purpose of cutting plastic in production.
The scheme, developed with the help of experts at Sheffield University, will be rolled out across own-label and branded products and will also be limited to products which are designed to have a shelf life of at least three years.
The new labels come with campaign group Which? this week calling on brands to launch a major expansion of refillable products and for better labelling to guide consumers.
It also follows moves last year by OPRL to simplify labels telling customers whether products can be recycled.
"The growth in refillable packaging is very exciting and we believe it will be rolled out increasingly both across non-food items such as household goods abut also across food packaging," said Jane Bevis, chair of OPRL. "But to make that successful we need clear and consistent labels that consumers can put their trust in."
Paul Geary, senior sustainability manager for packaging at Asda, said: "We have seen with the success we have had at our sustainability store in Leeds that there is a real customer appetite, and the new labelling system will provide important information which will help them make informed decisions on the products they buy."
Libby Peake, head of resource policy at the Green Alliance, said: "As companies and their customers look to reduce the impact of packaging, it's clear that refillables have a major role to play. But these systems can only deliver the environmental benefits they promise if they are used as intended, which is why it's great news that OPRL has created these labels. These should make it much clearer to people what they need to do to help support a more resource efficient packaging system."