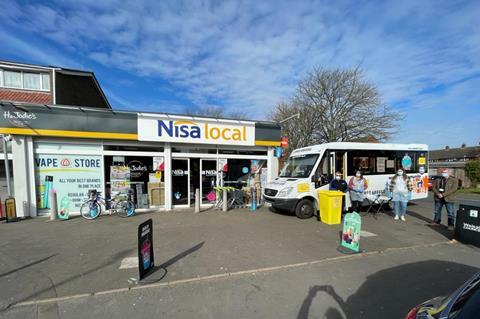 Nisa retailer Harjit Singh has teamed up with his local council to provide the community a free lateral flow testing facility outside the store.
Walsall Council will be parking a mobile lateral flow testing van outside the shop on Tuesday and Wednesday this week.
Tests will be conducted one at a time, with the potential of testing 12 people per hour.
Three council employees will be monitoring the service: a tester, a sanitiser, who is also the driver, and a meet and greeter who will ensure social distancing.
No appointment is needed, and results will be sent by text or email 30 minutes after the test.
Singh said the council reached out to the business because of its connections with the local community that would help "spread the word" of the one-off service.
The retailer announced the move on its social media channels and has been asking customers when serving them at the till to inform their elderly neighbours who aren't online that the service is available.
It said the initiative was a joint effort to keep the community safe, and to help curb the spread of coronavirus.
"They want to use us because we know the community," he said. "We've got 8,000 followers on Facebook, but we've also got the till. We serve around a thousand customers a day and we've been able to tell them the facility is coming.
"It's a great way to make a conversation with a new customer too and telling them that this is what we do in the community."
Singh added the initiative stems from the relationship the store and Walsall Council have built throughout the pandemic.
In December last year, Suntory Beverage and Food GB&I distributed £100,000 worth of Ribena Sparkling to more than 40 independent retailers to donate to local charities.
The Walsall-based store received a larger than average volume of around 20 pallets thanks to the shop's previous charity work and connections with local groups.
Singh explained Walsall Council offered the retailer a sports hall to house the larger delivery, and for organisations and charities to collect it from.
The store was also able to supply 3,000 chocolate bars, bottles of water and packets of crisps for frontline workers at Walsall Manor Hospital when the council reached out to the retailer see if they could supply the goods.
"If it wasn't for the pandemic, I wouldn't have the relationship with Walsall Council the way I have now," Singh added.