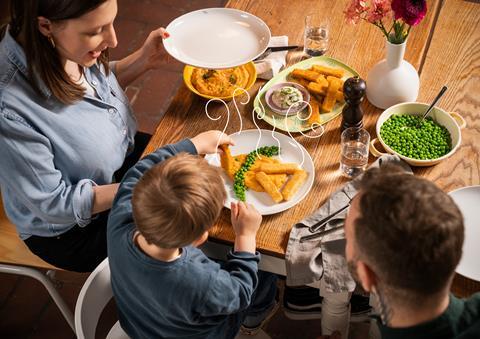 Sales have dipped at Nomad Foods as the frozen food specialist dealt with lower consumer demand as Covid restrictions eased and also came up against comparisons with the peak stockpiling period at the start of the outbreak in 2020.
Organic revenues fell by 4.5% to €596m (£506.3m) in the second quarter of 2021 at the Birds Eye, Aunt Bessie's and Goodfella's owner as volumes decreased 4.4% and prices declined 0.1%.
Although adjusted EBITDA in the three months to the end of June still rose 4% to €123m (£104.5m) as costs came down.
The second quarter performance contributed to a 1.2% fall in first-half revenues to €1.3bn (£1.1bn), with adjusted EBITDA up 9% to €261m (£221.7m) compared to the same six months in 2020.
Nomad was one of the big winners during the coronavirus pandemic as shoppers stocked up freezers with trusted household brands such as Birds Eye. The group reported organic revenue growth of 12.3% in the second quarter of 2020 during the height of panic buying in the first wave of lockdowns. And sustained pandemic demand drove full-year organic sales growth of 8.7% to €2.5bn for 2020.
CEO Stéfan Descheemaeker said today that Nomad achieved strong results in the second quarter of 2021, "notwithstanding easing of restrictions across Europe and the anniversary of peak Covid-related demand".
"Results were driven by improving market share trends, a recovering foodservice business, accretive allocation of capital and successfully navigating a dynamic inflationary backdrop. With more than half of the year behind us, we remain confident in achieving our 2021 guidance."
Nomad affirmed its forecasts for organic revenue growth of 1-2% and 3-5% higher adjusted EBITDA. Although, guidance doesn't include the pending acquisition of Fortenova's frozen food business, which is expected to close at the end of the third quarter.
Nomad agreed to buy the business for €615m in March as it continued to swallow frozen food brands all across Europe.
It follows the group snapping up Findus Switzerland at the end of 2020 to unify the Findus brand under one umbrella.
Noam Gottesman, Nomad Foods co-chairman and founder, said the group had "exciting growth opportunities, both organically and inorganically" ahead.
"Second quarter results clearly demonstrate the power of our value creation model as resilient base business performance was complemented by accretion from the Findus Switzerland acquisition and the effect of last year's share repurchases," he added.
"We are eager to close on the acquisition of Fortenova's Frozen Food Business Group, a transaction that is expected to result in 2021 adjusted EPS in excess of $2.00 on a combined and annualized basis and set a new baseline for growth."
Shares of Nomad shot up 5.9% to $27.48 in New York during early trading today.