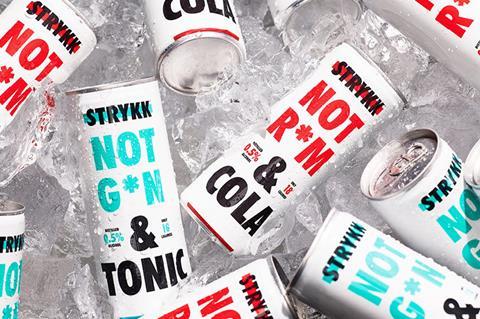 Low and non-alcoholic spirits brands are eyeing growth in RTDs.
This week saw both Gordon's and startup challenger Strykk launch canned non-alcoholic cocktails.
Gordon's rolled out a 0% G&T priced at £1.60/250ml, while Strykk unveiled a canned duo of Not G*n & Tonic and Not R*m & Cola at 0.5% abv, coming in at £2.20/250ml each.
There were "eight million mocktail drinkers in the UK looking for non-alcoholic alternatives but there is only a limited choice of RTD solutions and many are low-quality, uninspiring and poorly delivered", said Strykk founder Alex Carlton.
"This summer is going to be full-on, with people reuniting with friends and family and making up for lost time.
"Consumers will be keener than ever to re-ignite social rituals, both at home and out with friends, but also much more aware of physical and mental wellbeing."
In the case of Gordon's, it marks the latest in a series of non-alcoholic launches from the spirits giant over recent months, such as Gordon's 0% – a non-alcoholic version of its core drink – and a similar non-alcoholic variant of sister brand Tanqueray.
Diageo said the new Gordon's cans would "meet the increasing demand for premium premix products in a convenient format".
Gordon's and Strykk are not the only two brands setting their sights on RTD growth. Earlier this year, non-alcoholic spirit Amplify rolled out its first pre-mixed RTD, which combined its drink with Mediterranean tonic.
William Reed – the publisher of The Grocer – has launched an exhibition exclusively for the low & non-alcoholic drinks sector. For more information visit low2nobev.com.