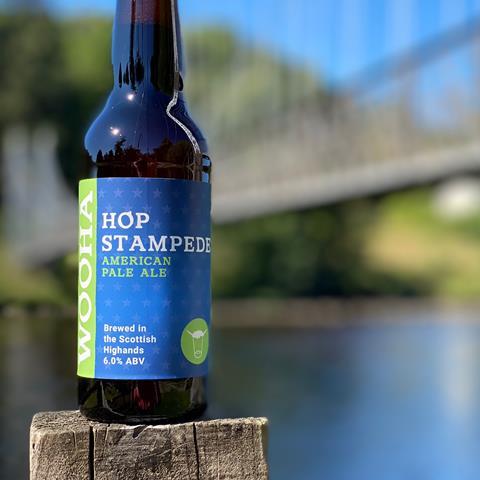 The owner of Isle of Sky Brewing Co has bought Scottish craft beer maker Wooha Brewing Co out of administration.
Scotland-based Wooha went into administration in March as pressures related to the closure of the off-trade due to the coronavirus pandemic caused "unsustainable cash flow problems", according to administrator FRP.
The deal, which is for an undisclosed sum, adds to the portfolio run by Scottish beer veteran Kenny Webster under the banner of North Coast Brewing Co, which includes Isle of Skye Brewing Co and Black Wolf Brewery and houses several artisan beer brands and links with key trade, wholesale and export markets.
Isle of Skye brewing has been trading since 1995 and supplies leading supermarkets and pub groups along with export.
The business also recently launched 'Skye Gin', and has an onsite shop, growing online business and an expanding retail and trade customer base mainly across the UK.
Founded in 2015, Wooha Brewing produced craft beers such as Hop Stampede and Jenny from the Bock, marketed as natural and vegan-friendly.
The business had invested in a 16,000 sq ft facility in Kinloss, Morayshire.
Wooha had raised more than £600k in early 2020 to support a £1.5m rebrand, including new beer lines and a plan to expand capacity by more than 17 times by 2023.
The brand had raised a total of around £2.3m from private investors over four funding rounds since 2018.
Commenting on the acquisition, North Coast director Kenny Webster said: "We have ambitious plans to grow and the acquisition provides us with access to high quality production facilities, a range of quality brands and an established network of trade and consumer customers.
"We hope to restart brewing at our new site very soon and, as the business develops, we hope to create a number of new jobs. "
Iain Fraser, partner with FRP and joint administrator said: "We are very pleased to have secured a sale to North Coast Brewing Co. The businesses associated with the director have a strong record of consistent innovation and Isle of Skye Brewing is one of the most recognisable craft beer businesses in the UK.
"We wish the management team and staff every success as they integrate the former Wooha Brewing Company into their business model and with their forward plans for further expansion."