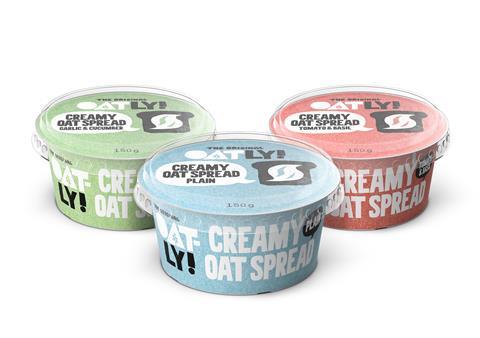 Oatly is hoping to challenge Philadelphia with a trio of plant-based spreads as well as a new Whippable SKU.
The dairy alternatives pioneer's Creamy Spreads – launching in Plain, Garlic & Cucumber and Tomato & Basil flavours – are said to offer the same consistency as traditional soft cheeses on the market (rsp: £1.80/150g).
Oatly has also launched a new Whippable Creamy Oat SKU aimed at home bakers (rsp: £1.20/250ml).
All of its new launches are made with plant-based saturated fat which "helps Oatly's products to perform and taste similar to their dairy counterpart", said the brand, adding it was "an amazing ingredient because it doesn't contain trans-fat the way that partially hydrogenated oils do".
The NPD "opens up the potential for a variety of new plant-based recipes and meals for our conumers," said Oatly UK GM Ishen Paran.
The brand wanted "to make it as easy as possible for people to make the plant-based switch without having to sacrifice on taste or miss out on their favourite meals", he added.
All three spreads have rolled into Tesco, as well as Whippable Creamy Oat, which is Tesco exclusive. The Plain and Garlic spreads have also hit Sainsbury's.
The NPD marks the latest in a swathe of firsts for Oatly, which last year made its debut in the yoghurt category with a four-strong range of 'Oatgurts'.