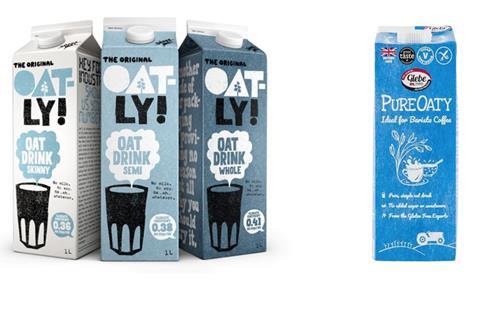 Oatly has failed in its bid to sue rival oat drinks supplier Glebe Farm over claims the Cambridgeshire-based business' PureOaty brand had infringed its Oatly and Oat-ly! trademarks.
Deputy High Court Judge Nicholas Caddick QC dismissed the Swedish plant-based giant's case today (5 August) at the Intellectual Property Enterprise Court, after finding there was no likelihood of confusion between the PureOaty sign and carton and any of Oatly's trademarks.
Oatly first filed court documents in June 2020 in a bid to force Glebe to recall and remove its product from sale, ditch the PureOaty brand and potentially pay damages after claiming its smaller British rival was seeking to infringe its registered trademarks and passing off its goods as Oatly's.
Following court evidence by both parties this June, Mr Caddick ruled that while there was some similarity in Glebe's product due to the presence of the word 'oat', the levels of similarity were "very modest".
He found against the allegation Glebe intended to gain "unfair advantage of the distinctive character or repute of the Oatly marks", and also rejected the claim of 'passing off'.
The court ruling document, seen by The Grocer, dismissed claims by Oatly that consumers would see the PureOaty brand as two separate words, with 'Pure' a mere descriptor, and would therefore be confused into believing PureOaty was a version of an Oatly product.
"The average consumer would see the degree of conceptual similarity as being low to moderate at best," the judge added, while also noting Oatly general manager Ishen Paran's admission that the brand had not seen "a single document to suggest a customer had even made a link between PureOaty and Oatly".
'David versus Goliath battle'
Welcoming the verdict, Glebe Farm owner and MD Phillip Rayner characterised the case as a "David versus Goliath battle". He added it was "enormously gratifying the judge has ruled in our favour, and to see that smaller independent companies can fight back and win".
The business had "always felt certain we have done nothing wrong, and we were determined to fight Oatly's claims that our brands were similar – something that is now proven to be wrong".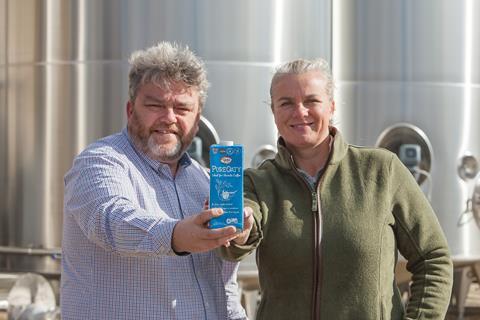 Describing Oatly's legal action as "unnecessary", he also thanked the 130,000 people who had signed a petition in Glebe's support, and hit out at Oatly's claim the case was "just standard business practice".
It was clear to Glebe "that this was not the case", he said. "In response to public and industry criticism, Oatly has claimed it first tried to engage Glebe Farm in 'constructive conversation' but in our view a threat of legal action never felt 'constructive' and we felt there was no compromise or dialogue offered."
In response, Oatly's PR manager for the EMEA region Erica Wigge said the business would accept the court's decision, would not appeal, and wished Glebe Farm "total success in their plant-based journey moving forward".
However, she also defended Oatly's position, by claiming the case had "always been about protecting our trademark and how the single letter 'y' creates too much of a similarity between 'Oaty' and 'Oatly'.
"While to some, this might be seen as vindication for small oat drink companies over big oat drink companies, we actually never saw it that way," she said.
"If we were to let one company pass because they, like Glebe Farm, seem to be one of the good guys, that might leave the door open for the bad ones," Wigge added.
"[The] truth is, we love all oat drink companies and never brought this case to damage Glebe Farm. In fact, we want them to thrive and help bring products into the world that are good for the planet."