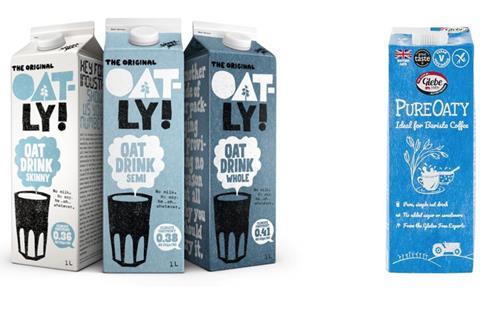 Oatly is taking fellow oat drinks supplier Glebe Farm Foods to court, claiming the Cambridgeshire-based company's PureOaty brand infringes its Oatly and Oat-ly! trademarks.
The dairy alternative giant, which is in the process of building its first UK factory just a few miles from Glebe Farm Foods' headquarters, is calling for PureOaty's packaging to be altered. It says the brand's packaging is too similar to its own.
According to court documents seen by The Grocer that were filed on 1 June 2020, Oatly is seeking to force Glebe Farm Foods to recall and remove its product from sale, ditch the PureOaty brand and potentially pay damages. PureOaty has listings in Holland & Barrett and Booths and is also available via Amazon.
The document reported that the claimants "seek an injunction to restrain the defendant from infringing any of the claimants' registered trade marks and the passing off of the defendant's goods as or for the goods of the claimants".
In response, Glebe Farm Foods joint MD Philip Rayner said Oatly's claims had come as a surprise and would be contested.
"Although Oatly are much bigger than us, we do not believe we have done anything wrong," he added. "And aside from fighting their claim as it is, there are deeper principles at play here for us as a family farming business in wanting to challenge back."
The trial is set to begin tomorrow morning in the Intellectual Property Enterprise Court at the Royal Courts of Justice and is expected to run until Thursday. A judgment is not anticipated to be reached until July.
Oatly has been approached for comment.
It comes as Oatly has underlined the UK market as a key area for future growth. Earlier this year, the Swedish dairy alternatives giant announced that it would build its first UK factory.
Last month, it further emphasised its aim for great growth in the UK when it launched its $10bn IPO in New York, describing it as "the centre of gravity for the European market".