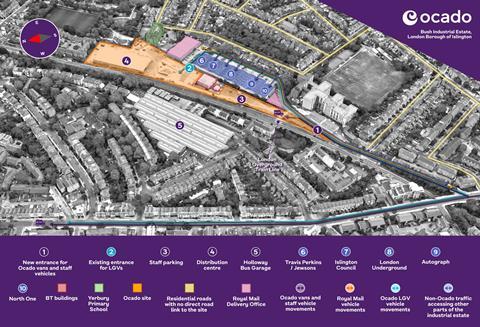 Ocado has said it "remains committed to the Islington community" after its plan for a new distribution site in the area was dealt a heavy blow today by a High Court judgement.
The online supermarket had taken Islington Council to court in a bid to overturn its block on a new Ocado delivery spoke in N19, on a site adjacent to a primary school.
Ocado challenged the council on numerous grounds, each of which were dismissed by Justice Holgate in his decision today.
Ocado told The Grocer it was "disappointed" with today's judgement and that it would "continue to look at how we can deliver a better service to the Borough and significantly reduce our emissions".
The site has been the subject of a long-running campaign led by concerned parents at Yerbury Primary School in Tufnell Park, which is located metres away.
"A company that is prepared to pollute children in their playground and drag parents and residents through the court to do it has no place in our or any other community," said Nocado campaigner and air pollution scientist at Imperial College London, Andrew Grieve.
Parent Natasha Cox added the verdict "sets a rightful precedent for prioritising children's health over irresponsible growth of online deliveries".
"There is a place for distribution centres but it is not a skipping rope away from primary school classrooms," she added.
The campaign – which earlier this year presented a 100-page pack of evidence to the council, which prompted it to revoke Ocado's certificate of use for the site – said it had been forced to "raise tens of thousands of pounds to defend ourselves in court" throughout the legal wrangling.
Some weeks ago Ocado launched what it calls a "consultation website" which outlined its plan for the Bush Industrial Estate in Tufnell Park, which it said "continues to push for a sustainable and environmentally-conscious service for our customers, while also respecting our neighbours and local residents".
The proposed site would be "the most sustainable grocery distribution facility in the UK" and create more than 250 "much-needed new jobs for local residents".
Ocado told The Grocer today the site would be "the greenest and quietest grocery facility in the UK with a 100% electric van fleet".
It is also understood Ocado's rapid service Zoom was expected to operate from the new site.
Campaigners said "serious questions must now be asked about Ocado and M&S's corporate governance and of its ESG commitment to community engagement".
"While Ocado dropped their initial plans for operating three diesel refueling pumps, their claims to 'electrify' the site were neither viable nor enforceable," the Nocado campaign added.