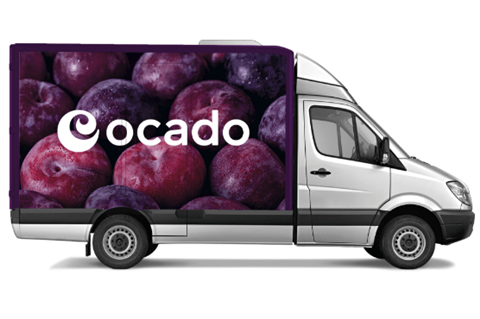 Ocado has undergone a major rebrand – changing its website and logo from green to purple.
One of the reasons for the overhaul was to better distinguish Ocado's branding and vans from those of rival supermarkets, giving it "a distinctive, ownable identity".
"Green is widely used in grocery branding in the UK, and frankly, we hate to be mistaken for anyone else," the company said.
The new colour – which Ocado calls 'grape' – also makes the brand's assets clearer online, the online supermarket added.
The rebrand also sees Ocado's swirl logo "redrawn and tweaked" so it remains recognisable in smaller sizes, and a change of font – to Ocado Sans – so the 'a' in Ocado isn't read as an 'o'.
The work was carried out with Jones Knowles Ritchie, St Luke's, Space Doctors, Ipsos and Kindling, and rolled out to the Ocado website this week.
"As an online supermarket, Ocado today needs to stand out on screens of all sizes," said Iván Mato, creative director at Jones Knowles Ritchie. "The vibrant colour looks fresh as either a foreground or background, and it can travel seamlessly between offline and online environments. Together, the assets dramatise the customer journey from search to trolley, working across both digital and physical touchpoints to cue Ocado instantly."
Delivery vans carrying the new branding – on a background image of plums – are expected to hit roads in the coming weeks. It is understood a special van design for Pride will launch in summer. Ocado drivers are understood to be receiving new purple uniforms later this year.
"The Ocado brand identity is already well loved so we focused on how we could evolve it to become more accessible, future-proofed and so our customers have the best experience possible when interacting with the brand," said Laura Harricks, customer director at Ocado Retail. "We'll be rolling our new identity out slowly to enable us to focus right now on delivering as many groceries to as many homes as possible."