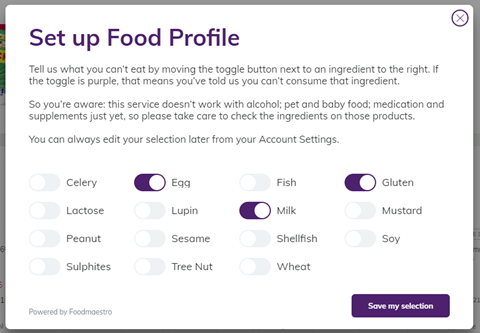 Ocado is launching new functionality on its website that allows customers to easily shop based on dietary needs.
Customers will be able to set up a personalised 'Food Profile' that notes their allergies and intolerances. A 15-strong list of intolerances is covered, including celery, sulphites, tree nut, lupin and egg. Products containing the ingredients are flagged if they conflict with the user's preferences.
"We are confident that this feature will save customers time whilst shopping online and give them confidence to try new products," said Laura Harricks, chief customer officer at Ocado.
The feature is powered by Foodmaestro, a Toronto-based company that has provided similar functionality to the Asda and Sainsbury's online grocery sites since 2018. The company also works with Walmart Canada, Wakefern and Coop Sweden.
"The launch of Food Profiles demonstrates our continued commitment to making Ocado the best place to shop," Harricks added.
Around 3% of the UK population have a severe 'IgE-mediated' food allergy and are at risk of potentially life-threatening allergic reactions. However, non-severe allergic reactions to food are much more common with as many as 30 in 100 people in the UK believing themselves to be allergic or intolerant to one or more foods.
Approximately 80% of UK household's shopping habits are affected because of a dietary restriction, according to an IGD report.
The project will give those with dietary restrictions the ability to shop "more confidently and efficiently" online, Ocado said.
An initial cohort of customers will be able to use the functionality from today, before a wider rollout next week.