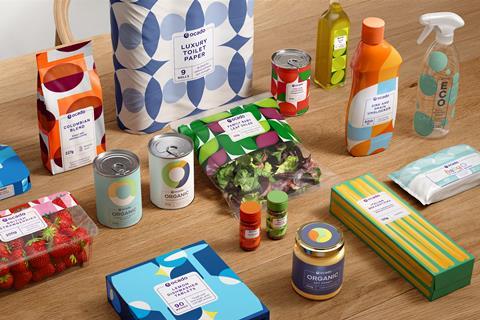 Ocado Retail's own-range overhaul, which launches today, will avoid 27 tonnes of plastic being sent to customer homes a year, the company has said.
The "major refresh" – first reported by The Grocer in February – sees the removal of nine million non-essential packaging components.
"It's so important to us that we are able to delight customers through our range, value and convenience but we also recognise the importance of ensuring our impact on people, animals and the environment is positive and sustainable in the long term," said Laura Harricks, chief customer officer at Ocado Retail.
"We're delighted the refreshed collection has given us the opportunity to improve the sustainability credentials of our own-range packaging whilst maintaining high quality and great prices," she added.
The redesign means 640,000 plastic nets will be removed. Other modifications include directly printing product information onto Ocado own-range egg boxes instead of onto an adhesive label.
"Which has in itself saved 10 tonnes of paper per year, and the colour has changed from green to white – both changes making it easier to recycle," Ocado said.
Product labels have been given "new bright, contemporary artwork" – described by Harricks as "the icing on the cake" – designed by creative company Jones Knowles Ritchie (JKR). JKR was behind Ocado.com's January rebrand from green to purple.
"The new colour of purple, inspired by grapes, was selected in order to give the brand a more distinct identity in the grocery retail market which already has many shades of green," Ocado said.
The work also involved the creation of a new custom font, Ocado Full Fig, designed exclusively by type foundry F37font and a new swirl logo – both of which the company says are easier to view in a small size, such as a phone screen.
"We have been busy working on a new look and feel to the Ocado own-range for some time now and are delighted to be able to share the final results. Each and every one of our own-range items has received a fresh makeover featuring brighter colours and bolder patterns, just in time for the spring," said Rachel Cox Reynolds, head of own-range and technical compliance.
The own-label range of around 530 products has also been expanded. New additions include Moroccan inspired houmous, cheese and chive dip and chimichurri British flat iron steak.
Further additions will be "revealed gradually" as part of seasonal offerings throughout the year.