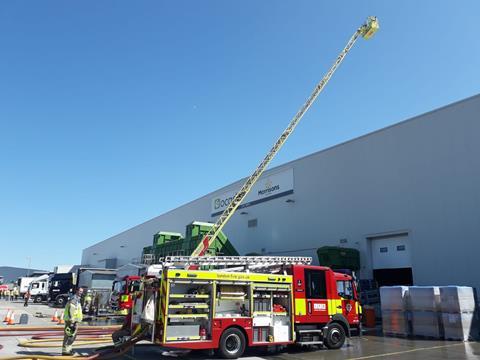 A collision between three robots sparked a major fire at Ocado's Erith CFC on Friday afternoon, meaning thousands of customer orders were cancelled or diverted to other fulfilment locations.
The site is also used to fulfil online orders on behalf of Morrisons.
Fifteen fire engines and 100 firefighters attended the blaze, which was described as "deep seated". Crews worked until early Saturday morning "damping down hot spots".
"Firefighters worked hard in hot and arduous conditions inside the warehouse," said station commander Steve Vydelingum, adding it was a "challenging operation" due to the size and complexity of the three-storey, 30-bay warehouse.
Around 800 staff were evacuated by the time fire crews arrived. Fire crews from Bexley, Plumstead, Millwall, Lee Green, Greenwich and Eltham fire stations were at the scene.
Ocado said the damage caused by the blaze was limited to "less than 1%" of its robotic fulfilment grid thanks to "planned fire attenuation measures".
"The correct protocols were successfully implemented including the evacuation of the building, the activation of the sprinkler system and the presence of the London Fire Brigade. No one has been injured and all colleagues on site are safe," the grocer said in a statement.
"Aside from some residual smoke smell, the vast majority of the CFC is in good condition," Ocado added.
The company expects the CFC to begin operating again this week, with normal service to be restored "as soon as possible". The Erith site handles around 150,000 orders per week.
"We thank customers whose orders are affected for their patience," Ocado said. "We would like to also thank the London Fire Brigade and all the other emergency services for their hard work and professionalism in dealing with this incident."
It is the second warehouse fire Ocado has suffered. In 2019 a blaze – caused by an electrical fault in a battery that caused a robot to catch fire –tore through its Andover facility, wiping out around 10% of its capacity. Two years on the Andover CFC is still not complete, due to open in autumn this year.
Morrisons, for which Ocado fulfils orders at the Erith site, agreed to give Ocado more capacity in the warehouse temporarily while it rebuilt the Andover CFC. Morrisons returned to its previous capacity level at Erith in February this year.