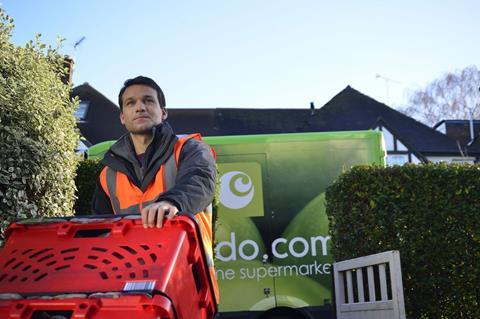 "Where are the customers?" asked one broker as Ocado's booming retail sales received short shrift from the City this week amid a slowdown of its international partnerships and a loss of market share.
That's despite some impressive headline figures from Ocado's annual results. Sales are no doubt impressive – for the 52 weeks ended 29 November jumped by 32.7% to £2.3bn with retail sales up 35.3%, while it cut its pre-tax loss by more than 80% from £214.5m to £44.0m.
Furthermore, EBITDA for the period jumped to £73.1m, up from 43.3m a year ago, as Ocado benefited from the boom in online grocery sales during the coronavirus pandemic and operational efficiencies in the UK retail business.
However, Ocado shares fell 1.6% on Tuesday and by 7% on Wednesday back to 2,511p as investors noted the step-change in online grocery in 2020 did not bring about a step-change in Ocado's core profitability.
Pre-exceptional losses actually increased from £120.4m to £148.6m during the year amid a hefty £168.9m of amortisation costs related to the rollout of its technology. These were only mitigated by a one-off £104.6m gain primarily relating to an insurance payout from its Andover CFC fire.
Long-time Ocado sceptic Shore Capital wrote: "Ocado is a great British technology triumph… [But] where Ocado differs from most booming consumer-tech companies, is its lack of conversion of technological genius into tangibly leading market positions."
Additionally, HSBC wondered where Ocado's new customers were – both in UK consumers due to capacity constraints and international retailers –during a "step-change in online demand".
The broker said: "In the past, Ocado has capitalised on such periods to sign up new customers… But, to date, Ocado has added no new customers in the 12 months since the start of the pandemic."
It added: "While Ocado's profit benefited over the past year, the shortcomings of centralised fulfilment have been exposed by the pandemic. Store pick competitors have been able to scale operations faster and gain share, and now have more alternatives in microfulfilment to replicate Ocado picking efficiency in a lower-risk, lower-cost and more flexible manner."
Looking forward, Ocado warned the coronavirus would continue to have a "significant impact" on group profit performance due to the extra costs it is incurring and that £700m of capex investment into UK and international technology would continue to constrain profitability.
However, a more upbeat AJ Bell summarised: "Ocado still needs to deliver on profit but it is getting closer. It has faced teething problems, sometimes struggling to keep up with demand, but for the most part it has coped with the rapid shifts in customer purchasing patterns."
"Covid has been something of a double-edged sword with travel restrictions stalling attempts to sign up more customers – however, this may at least allow some time to make progress with the partners already signed up."
Ocado shares are more than 110% up year on year, though are now 13% down on their September peak of 2,914p.