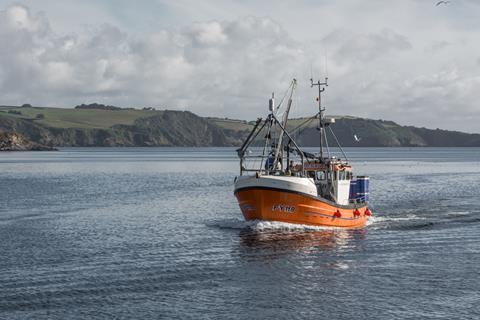 Cornish fishing and processing company Ocean Fish is launching a new brand which aims to make British-caught fish more accessible to consumers.
The Hook, Line and Sinker marque will initially consist of a range of four chilled, added-value fish products designed to be fuss-free.
Developed in collaboration with Cornish chef James Strawbridge, the range consists of: barbecue-orientated Cornish Harissa Monkfish Skewers (rsp: £5.99/200g), MSC-certified Cornish Sardines in a Mediterranean Marinade (rsp: £2.80/200g), MSC-certified Cornish Hake with Pea and Mint Pesto and a West Country Vintage Cheddar Pollack Gratin – pollack being a whitefish that resembles cod and haddock (both rsp: £5.99/300g).
All four of the species had been chosen to feature in the initial range because they would be familiar and understandable to most consumers, the supplier said.
"The Hook, Line and Sinker range will showcase some of the species landed by our fleet of boats into South West ports daily and will enable even the most tentative of fish cooks to create a deliciously tasty meal," added Ocean Fish head of retail Victoria Townsend.
"For a long time, the retail fish offering has been about a few imported species. Now is the time to reintroduce British species onto retail shelves."
The brand doesn't yet have any ­supermarket listings, but discussions with retailers were ongoing, she added.
Cornish Sardines in marketing 'first'
Ocean Fish has also claimed a UK-first with the Cornish Sardines product, saying it would be the first time the species had been marketed using its PGI (Protected Geographical Indication) status. Cornish Sardines have held PGI status since 2009. But due to their low levels of distribution in UK retailers, have not been marketed under the logo.
The processor's MD Leigh Genge said it was "a fantastic opportunity to further promote one of the great British species caught off the coast of Cornwall".In addition to the Hook, Line and Sinker NPD, the PGI flash would also appear on all of Ocean Fish's pre-packed Cornish Sardines, Genge added.
Ocean Fish's fleet of orange Ring Netters catch around 2,500 tonnes of Cornish Sardines between August and February and land them into ports in the south west. They are then transported using the supplier's own fleet of articulated trucks to its processing facility in St Austell, Cornwall for packing.