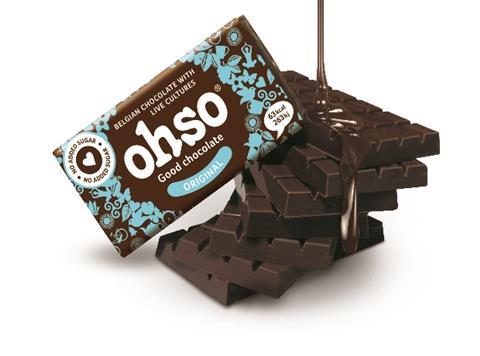 Healthy gut confectionery maker Ohso Chocolate has sold a majority stake to investment house S-Ventures for almost £300,000.
The VC firm acquired 75% of the brand at a price of 9p a share. It also granted Ohso founders Andrew Marten and Liz Hallet the opportunity to exchange their combined 25% stake into shares of S-Ventures.
Ohso is a probiotic chocolate company, promoting healthier sweet snacks. It has developed products with its own unique "microencapsulation" process, which is claimed to be better for gut health than traditional chocolate.
The brand, which also had no-added sugar variants and portion-control bars, has an established direct-to-consumer subscription model as well as distribution with retailers, including Ocado.
Under the umbrella of S-Ventures, Ohso will look to develop the product range, continue to grow its existing product lines and consider partnering opportunities with other major brands to use its technology.
The existing Ohso team will remain in place, with Martens remaining as MD.
S-Ventures chairman David Mitchell said: "We are delighted to have acquired our stake in Ohso Chocolate and we very much look forward to working with Andrew and the team. The product has achieved great results and progress but together we believe we can grow faster and exploit opportunities more effectively in the healthy probiotic space."
S-Ventures is a publicly listed business investing in brands in the health & wellness categories in fmcg. It acquired a majority stake in snacking brand Purely in January and is also an investor in juice business Coldpress.