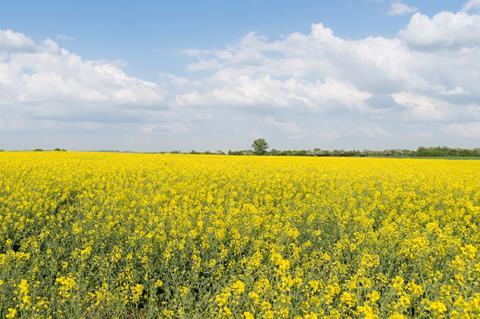 Oilseed rape prices have soared in recent weeks amid weather-related crop concerns and the continuing impact of pests.
According to Mintec, rapeseed oil at Rotterdam was priced at €1,053.33 (£909.56) per metric tonne on 7 April – close to 35% higher year-on-year and up 18% since the start of 2021.
The rises come amid weather challenges in the key growing areas of Canada and Ukraine, which have become a major source of rapeseed oil for the EU and UK since their production was curtailed by the neonicotinoids ban.
"Canada was affected by dry weather towards the end of last year, which led to reduced supply forecasts for this year," said Mintec market analyst Archit Singh.
"There's been poor weather across the Black Sea region as well. Hot weather reduces yield from oilseeds and extreme dryness reduces their oil content. This has also pushed Ukrainian sunflower prices to record highs – around 135% up year on year [to £1,082 per tonne]."
Singh said given some major economies were beginning to reopen following Covid restrictions, as well as the positivity around vaccine progress, he expected prices to remain firm for the time being.
The price rise could come as bad news for UK manufacturers given the fall in domestic crop yields due to extreme weather and the cabbage stem flea beetle, which have left them increasingly reliant on imports.
Read more:
A key ingredient for many products from spreads to mayo, rapeseed oil has seen an 18%-26% drop in yield against the UK's five-year average, according to AHDB, with just over one million tonnes produced in 2020.
This was well down on the 2.5 million tonne per year average seen from 2011 to 2015 and about half of what the UK typically consumes in a year.
"Britain and Europe are going to carry on struggling growing rapeseed successfully in the medium term until we can find a better way of doing it," said rapeseed oil supplier to the mults Duncan Farrington.
He added that this would be preferable to importing from countries like Ukraine where they still use neonicotinoids, as producers did not want to alienate consumers.
"I'm hoping the current high commodity prices for rapeseed will encourage more farmers back into growing the crop in the next couple of years. We need to find a combination of successful ways to grow the crop at a lower risk because it's an important break crop and there's a demand for rapeseed oil from the UK consumer."
It comes as AHDB reported this week there had been additional UK crop concerns for this year off the back of reports of dry and frosty weather during rapeseed's early flowering stage.