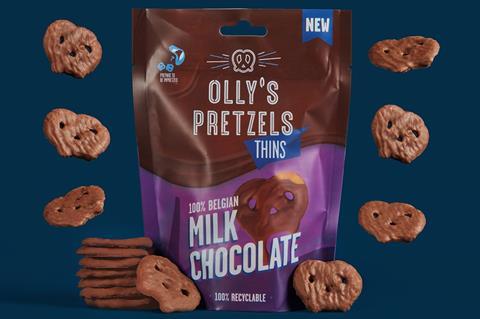 Olly's is claiming a world-first with the launch of chocolate-covered pretzel thins.
It has unveiled two new SKUs: Belgian Milk Chocolate Pretzel Thins and Belgian Dark Vegan Chocolate Pretzel Thins (rsp: £2.50-2.75/90g).
They are made by baking and lightly salting Olly's 'signature' pretzel thins, before coating them in 100% dark or milk chocolate for "the ultimate sweet and salty combo", said the brand.
They launched today on Olly's e-commerce website, with retail rollout planned for January.
It comes at the end of an eventful year for Olly's, which saw it rebrand from its former name Olly's Olives as it expanded its retail offering amidst hospitality closures, foraying into new categories including pretzels and nuts.
In October, the snack brand announced it had secured a whopping £500,000 investment from private investors, which it would use for new product development and to support its retail listings, it said.