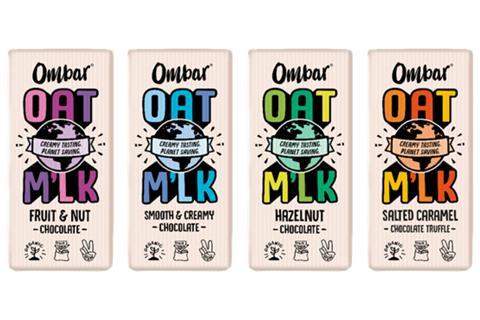 Vegan chocolate challenger Ombar has unveiled a quartet of chocolate bars made with oats.
They are: Smooth & Creamy, Hazelnut, Fruit & Nut and Salted Caramel. The bars – which contain organic British-grown oats in place of milk – are claimed to produce less than half the carbon emissions of mainstream milk chocolate products.
They were carbon neutral, as it was offsetting any carbon emissions that were produced during manufacturing, said the brand. The new bars will roll out at the end of this month (rsp: £2.50/70g).
Ombar will donate 3p from every bar sold to Fundación Jocotoco – where Ombar sources its cacao – to aid reforestation of the Chocó rainforest.
Ombar founder Richard Turner said it was "a small chocolate company with a desire to make a big difference".
"Ombar Oat M'lk was born from our desire to have a positive impact in the face of the immense challenges of climate change and environmental collapse," he added.
It comes after confectionery giant Cadbury last week unveiled its duo of Plant Bars made from almond paste.
Two flavours – Smooth Chocolate and Salted Caramel – billed as having "a similar taste and texture to milk ingredients while offering a hint of nuttiness", will roll out in November (rsp: £2.50/80g).