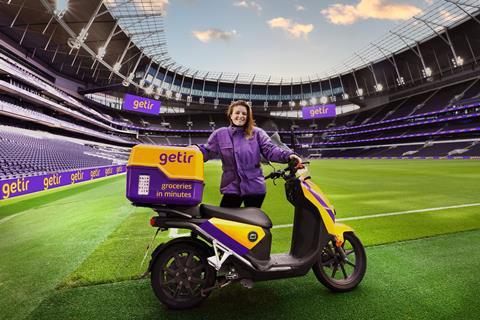 Ultra-fast grocery delivery company Getir has signed a three-year sponsorship deal with Tottenham Hotspur Football Club.
It is Getir's first sporting partnership in the UK, with the rapid delivery brand named as 'Official Global Partner' of the north London club.
"We have seen great appetite for our online grocery delivery service, and we know that people crave convenience, but we also give time back so customers can enjoy doing the things they love, things like watching Premier League football," said Turancan Salur, Getir UK general manager.
Salur said the brand was committed to "working with some of the world's leading sports organisations".
Getir is not the first on-demand grocery service to back a UK football club. Last month Zapp signed as a sponsor of Chelsea FC, in a deal that includes stadium advertising, player activations and exclusive fan promotions. It's two-year partnership will be supported by Zapp's first TV ad, which will be shown at half time at a Chelsea home game in the forthcoming Premier League season.
Getir is currently delivering groceries within a 15-minute timeframe to customers in London, Birmingham, Manchester, Brighton, Cardiff, Liverpool and Bristol, and expects to operate in 15 UK cities by the end of the year. Established in Turkey in 2015, the delivery brand entered the UK market in January and has since expanded into the Netherlands, Germany and France.
"Getir pride themselves on being innovative, are dedicated to minimising their impact on the environment, and put people, as well as world-class technology, right at the heart of everything they do," said Todd Kline, chief commercial officer at Tottenham Hotspur. "We look forward to working closely with them in the years to come.
"We are delighted to announce this new partnership with Getir and we're looking forward to supporting them with their rapid growth in the UK and across Europe."