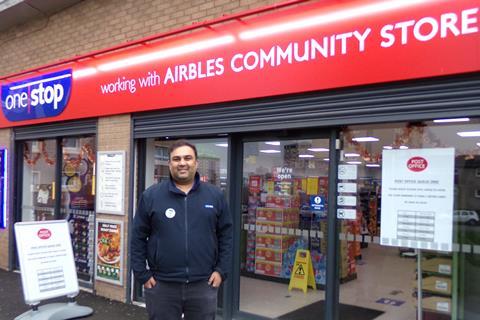 A One Stop franchisee in Airbles, Motherwell, has hit £1m in sales via Snappy Shopper.
Owner Adeil Hussain said it's a reflection of customers increasingly demanding these types of amenities.
He initially set up the service in February 2020 when Snappy Shopper was still in its infancy, just before the pandemic took hold.
Hussain said the service picked up pace when the first lockdown hit, taking orders from two a day to 15. This figure increased each week, reaching as high as 100 orders a day.
Since then, the retailer has racked up almost 20,000 orders and 800 new customers.
"The figures really speak for themselves," he said. "We've achieved this through repeat customers; they trust us and come back time and time again. Working with Snappy Shopper, we're a little different to other delivery services as we offer the same in-store price, including promotions. It's then delivered in anywhere between 30 minutes to an hour later.
"The opportunities are huge, and people are crying out for this type of service as they want the convenience of shopping arriving quickly at a price they'd pay if they came in-store. By us responding to consumer demand, everyone wins."
Hussain said the service has particularly benefited the elderly who have had to isolate, as well as mothers with young children or those working from home who can't make a quick trip to the shops.
He is currently using social media to help spread the word of the service.
One Stop head of franchise John Miller said: "Lockdown has shown us what the future of convenience retailing looks like and how customers are preferring to shop. People are working differently; needs are changing and convenience is ever more in demand.
"This is a fantastic milestone for Adeil and his team and shows how hard everyone has worked to achieve such profitable sales, whilst at the same time helping so many in the community.
"At One Stop we are committed to providing our franchisees with opportunities like this and work with a number of delivery partners to get our products out to our customers. We spoke with Adeil as far back as 2017 about a home delivery service but the pandemic accelerated this and continues to provide an ideal way for many people to shop.
"Congratulations to Adeil for harnessing this enormous growth area and showing what can be achieved in a relatively short space of time."